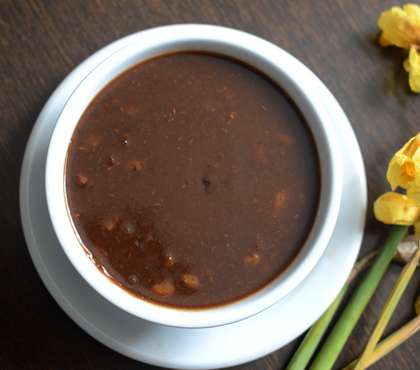 Sonth Chutney is a simple type of chutney recipe, contains the fragrance of ginger, jaggery, cumin and ground spices. This chutney goes with several Indian snack dishes.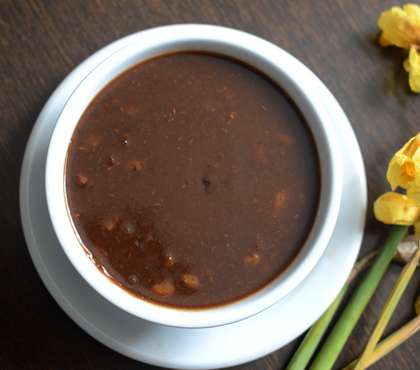 Preparation time: 5 minutes
Cooking time: 10 minutes
Servings: 6
Ingredients:
1 tbsp dry ginger (peeled and minced)
2 tsp dry Ginger powder
200 gm Gur (Jaggery)
1 -1/2 tsp white Cumin seed powder
1 tsp Red chili pepper (Lal Mirchi)
50  gm whole Amchoor (dry mango pieces)
1 tsp ground spices
1-1/2 tsp Salt (Namak)
1/2 tsp Black Salt (Kala namak)
How to make Sonth Chutney:
Soak the amchoor for 5-6 hours or for overnight in 2 cups of water.
Boil in same water in which it was soaked.
Keep the flame low and stir until amchoor tenders.
Drain through a sieve, add some water till it reaches to the pouring consistency.
Add salt, ground spices, dry ginger powder, minced ginger, red chili pepper , jaggery and white cumin seed powder. Mix very well.
Finally sprinkle black salt over all on the chutney and serve with papdi, dhokla or with any Snack dish.