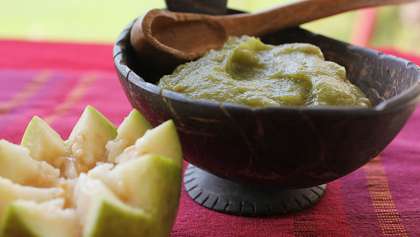 Guava Chutney is made with fresh Guava (Amrood),ginger, some dry nuts and simple spices. You might have never heard about Guava Chutney, but it is highly famous Indian chutney and goes very well with Indian snack dishes.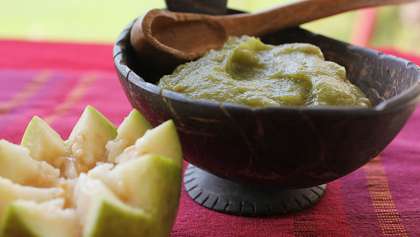 Preparation time: 5-6 minutes
Cooking time: 10 minutes
Servings: 8-10

Ingredients:
1 kg Guava (Amrood)
4 big Cardamoms (Elaichi Moti)
2 tbsp Ginger (Adrak), cut into thin long strips
5-6 cloves Garlic (Lasun)
1 tsp Red chili pepper (Lal Mirchi)
10-15  blanched Almonds (Badam)
1 tsp Raisins (Kishmish)
1 cup Sugar (Cheeni) (1 1/4 cup)
1/2 cup Vinegar (Sirka)
1-1/4 tsp Salt (Namak)
6 cups Water
How to make Guava Chutney:
Peel the guavas, remove the seeds and cut each into four pieces.
Now cut each piece of guava into thin slices and place them in a non-stick pan.
Add ginger, garlic and water.
Cook on high flame for first few minutes.
Then slowly add remaining ingredients and cook on a medium flame till it thickens.
Mash until it reaches to the proper chutney consistency.
Cool and put in a clean jar and cork tightly.
For one day, keep this chutney at the room temperature until it sets.
Serve on the next day with your favorite snack dishes.