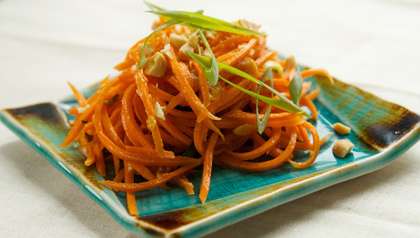 Spicy Carrot Chutney is the blend of lots of healthy carrots, ginger, garlic and spices.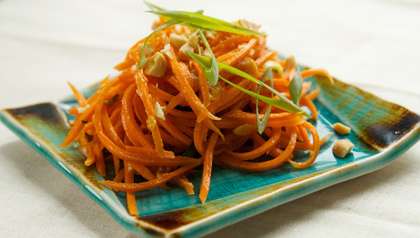 Preparation time: 5 minutes
Cooking time: 8 minutes
Servings: 6-8
Ingredients:
500 gm Carrot (Gajar) grated
3-4 cloves garlic
100 gm ginger minced
4 tbsp almonds blanched
2 tbsp raisins
1 tsp red chili powder
2 tbsp sugar
3-4 green cardamoms crushed
2 tbsp vinegar
Salt to taste
How to make Carrot Chutney:
Heat a non-stick pan and add grated carrots, ginger and garlic.
Cook on low flame until tenders and water of carrots evaporates.
Stir very well in vinegar, salt, sugar and other ingredients.
With continuous mixing, make a little thick chutney.
Store in air tight jar and serve within 4 days.