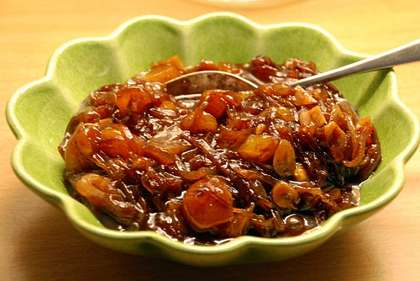 Apricot Chutney is a special chutney recipe, made with Apricots (Khumani), almonds, cardamom and spices.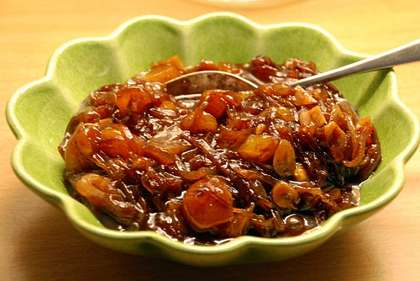 Preparation time: 5-6 minutes
Cooking time:  10 minutes
Servings: 8-10
Ingredients:
400 gm Apricots (Khumani)
1 cup almonds (blanched)
3-4 black cardamom crushed
3 green cardamom crushed
1 tsp ginger sliced
5-6 cloves garlic
2 tbsp vinegar
1 tsp salt
1 tsp red chilli powder
1-1/2 cups water
2 cups Sugar
2-3 tsp raisins
How to make Apricot Chutney:
Boil the water and add apricots.
Cook until apricots turns soft.
Peel and mash the boiled apricots.
Strain the pulp from apricots and wash the stones with one cup of water.
Cook apricot pulp, ginger, garlic and water of washed stones, almonds and raisins till all the water is absorbed.
Add salt, sugar and vinegar.
Also mix the crushed cardamom along with red chilli pepper.
Cook till is thickened and golden brown
Place the chutney in an air tight container /jar.
Use as per your requirement.
This chutney can be stored for 6-8 months.