Mcdonald's Veggie Burger is simply amazing and a yummy Indian Burger. The Burger Buns are stuffed with delicious homemade Aloo Patty, a Secret Sauce and Veggies. After lot of struggles and efforts, finally I made McDonald's Veggie Burger at home, because it is one of my favorite burger at McDonald's. I couldn't succeeded fully in making it at home because in mcdonalds they have amazing techniques of making sauces and burgers. But my burger was well satisfying for me and my family.
In today's culture, vegetarian (or veggie) burgers have become more popular in fast food restaurants and markets. If you love vegetables, but wish to have it in a burger style, then it's really easy and tasty.
Sometimes I make this burger at the time of dinner and a prior preparation is the best thing for making super quick and easy McFresh dinner. The best part of the recipe is by far the secret sauce, the ultimate burger enhancer and it can be made only if you are getting all the ingredients.
If you like veggies, then you are going to love this burger. A crisp veggie patty, sprinkled with shredded lettuce, juicy tomato and homemade sauce is worth to eat. Hopefully you all will enjoy my homemade burger as well.
For making Sauce you will need:

4 tbsp French salad dressing
2 tsp dried onion flakes
1/2 cup mayonnaise
4 tsp dill pickle relish
1-1/2 tsp sweet relish (I prefer Heinz)
2 tsp white vinegar
1/2 cup Miracle Whip
2 tsp ketchup
2 tsp sugar
1/2 tsp salt
How to make Mcdonald's Veggie Burger Recipe:
Mcdonald's Veggie Burger Recipe
Mcdonald's Veggie Burger is simply amazing and a yummy Indian Burger. The Burger Buns are stuffed with delicious homemade Aloo Patty, a Secret Sauce and Veggies.
Ingredients
6 potatoes (boiled and peeled)
1/2 cup boiled green peas
1/4 cup dried onion flakes
1/2 teaspoon onion powder
8 sour dill pickles
3 teaspoon Accent seasoning (msg)
1-1/2 teaspoon ground black pepper
Oil for frying
Salt to taste
4 sesame burger buns (bought from Mongini's)
5 lettuce leaves (coarsely chopped)
2 tablespoon tomato ketchup
Few sliced tomatoes
Instructions
For making sauce, mix all the ingredients very well and cook in a saucepan ver medium high flame. Cool the sauce and refrigerate for 30-40 minutes for well blending of flavors.
Take a big bowl and mash the boiled potatoes very well in it. Add boiled green peas, salt, pepper powder, seasoning, onion flakes and onion powder. Mix very well and then add 1 tablespoon of cooking oil.
Thinly chop the dill pickles and mix in patty mixture. Make a smooth and soft patty dough and make 4 equal sized patties from it.
Make sure patties should be thin so that they can be fried quickly. Freeze them for few hours till sets.
Heat good amount of oil in a frying pan and deep fry the patties one by one over medium flame.
Drain on paper napkins to soak excess oil.
Just before serving the burger, heat the burger buns on a hot griddle for few seconds. Spread some tomato ketchup and prepared sauce on down side piece of bun, place a fried patty, put a slice of tomato and finally spread some chopped lettuce.
Spread the prepared sauce over top bun as well and cover the burger.
Your homemade McDonald's Veggie Burger is ready to serve.
Notes
If you are calorie conscious and still want to enjoy this burger at home, then do not deep fry the aloo patty. Instead of deep frying you can shallow fry or cook the patty on hot tawa/ griddle.
Tasty Indian Recipes
Chef Tip:
If you want you can put a slice of onion and a slice of cheese in it for more flavors.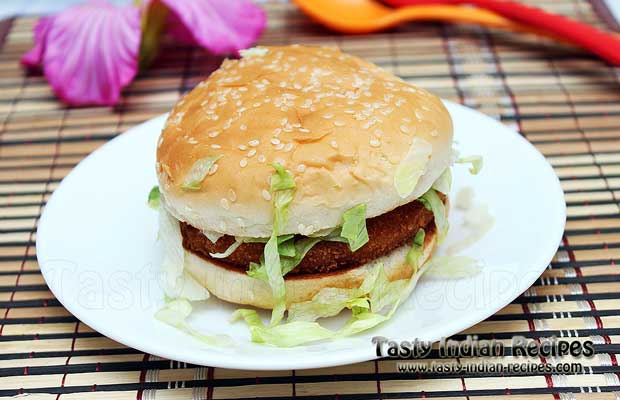 Further Reading:
If you are looking for more Indian Fast Food Recipes, then do check our Indian Fast Food Section.