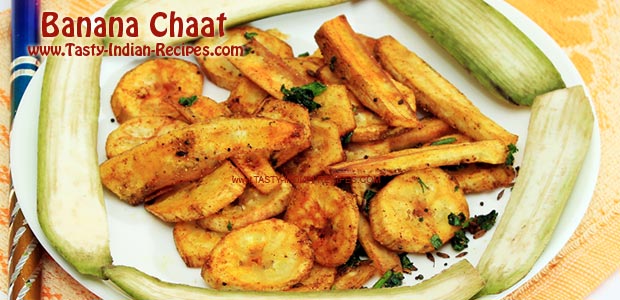 Banana Chaat Recipe is the flavorful Indian snack dish, made with raw banana and some spices. Whenever you feel hungry and want to try something yummy, then you must try this chaat at home. I have made it in a simple way with the quick available ingredients at my home. Trust me, this chaat was awesome in eating with my evening tea.
Banana is a versatile fruit, which can be included into salads, milkshake, pancakes, baking products like cakes and breads etc. Raw banana chaat is known as Kacche Kele Ki Chaat. It is a tangy and easy recipe made with few ingredients and in less time.
Banana chaat is an excellent and amazing chaat recipe experiment in my kitchen. Here is a tempting, light banana recipe especially for children. Learn how to make kacche kele ki chaat at home.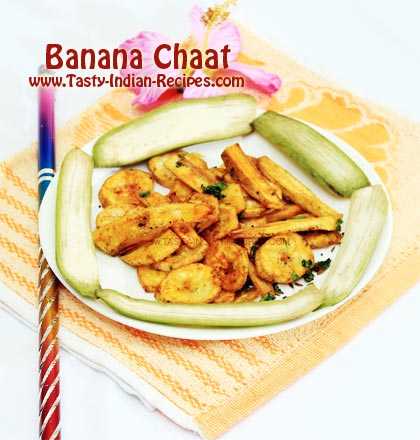 How to make Banana Chaat Recipe:
Banana Chaat Recipe is the flavorful Indian Snack Dish, made with Raw Banana and some Spices. In India, people enjoy it with their evening cup of tea.
Ingredients
2 raw bananas (kachhe kele)
1/2 tsp cumin seeds
1/4 tsp mustard seeds
1/2 tsp red chilli powder
1/2 tsp turmeric powder
1/4 tsp coriander powder
1/4 tsp garam masala powder
1/4 tsp chaat masala
Fresh coriander leaves, finely chopped (to garnish)
Cooking oil for frying
Instructions
Peel the raw bananas and soak them in water for 10 minutes. Cut the bananas in few round pieces and few in lengthwise slices. Heat oil in a pan and fry the banana pieces, till they turn little golden in color. Drain on oil absorbent tissue paper and keep aside.
Now heat only 1 tsp of oil and add cumin and mustard seeds. Add fried banana chips and toss. Mix salt to taste and keep cooking on a medium high flame.

Then add red chilli powder and turmeric powder. Quickly toss with coriander powder and garam masala powder.
Finally add chaat masala to taste and mix well. Toss quickly to blend the flavors.

Keep the flame medium high and add chopped coriander leaves.
Toss and enjoy
Notes
If chaat masala is not available, then add a pinch of dry mango powder. It gives a tangy taste to banana chaat. Serve this chaat immediately. Do not keep it for long time, else will turn mushy and soggy.
Tasty Indian Recipes
Further Reading:
This Banana Chaat can be served with Mocktails as well.
Read one more way of making Kacche Kele Ki Chaat.
You may also like Banana Finger Chips, Banana Lassi and Banana Chutney.