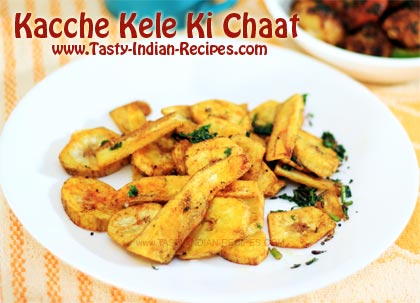 Kacche Kele (Raw Banana) Ki Chaat is a mouth-watering snack dish made with raw bananas and scraped coconut. This is one of the most tempting vrat (fasting) recipe in India.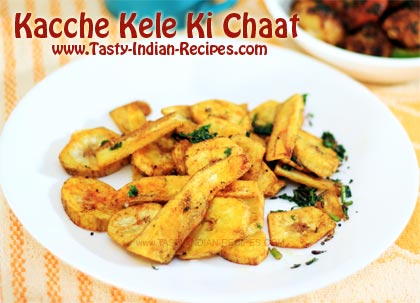 Preparation time: 2 minutes
Cooking time: 10 minutes
Servings: 4
Ingredients:
6 raw bananas (katche kele)
Few curry leaves
1/2 tsp mustard seeds
1 tbsp sweet sauce/chutney
1/2 tsp chaat masala
Salt to taste
A pinch of black pepper powder
Fresh coriander leaves chopped
1 tbsp coconut scraped
Oil for frying
How to make Kachhe Kele Ki Chaat:
Peel the bananas and cut into thin strips.
Keep them in warm water for about 30 minutes.
Take out the banana strips from the warm water and apply little bit of salt all over.
Again set aside for 10-15 minutes.
Heat sufficient amount of oil in a pan and deep fry the banana strips until turns into nice golden brown in color.
Drain on oil absorbent paper and allow to cool.
Mix the sweet chutney, chaat masala, black pepper powder and coriander leaves very well into the fried banana strips.
Heat a tsp of oil in a saucepan and add mustard seeds and curry leaves.
Allow to splutter and pour over the cooked banana.
Also spread some scraped coconut all over.
Serve immediately with chutney and papdi.
Chef Tips:
If you do not want to deep fry the bananas then you can either bake them in the oven or shallow fry on hot griddle.
This is the best chaat to eat in fasting, that provides enough energy to the body throughout the day.