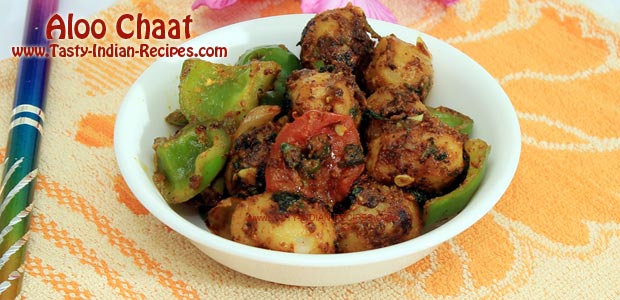 Making Aloo Chaat Recipe is a delight of watching the baby potatoes, that how they turn into something very exciting, when tossed with Indian spicy masala. I have tasted variety of chaat recipes, but this one is my most favorite. Crispy fried potatoes are paired with capsicum, onion and tomato.
A yummy taste of this chaat comes out when cooked with little burnt and brown texture.
Try to get fresh Baby Potatoes for making this Chaat at home
I generally make it in pan but alternatively you can make it in oven as well.
If you like more vegetables then you can add Paneer, Cauliflower and Carrot in it. If your curd is not thick enough then put it in sieve for 15-20 minutes before making marination. In this way curd will be thick and water from it will drain.
Today I'm using baby potatoes for making this chaat, but if you do not get small baby potatoes, then go ahead with normal potatoes as well. Also if you get red and yellow bell pepper, straight forward go ahead with it. Believe me, you must have never enjoyed any chaat dish like this before at home.
How to make Aloo Chaat Recipe:
Aloo Chaat Recipe is made by tossing the Potatoes with Spicy Indian Masala. Here Baby potatoes are cooked with Vegetables and flavored with Tandoori Masala
Ingredients
2 cups baby potatoes or 2 medium potatoes (cut into cubes)
1/2 capsicum (green bell pepper) diced
1 onion, diced
1 tomato, diced
1 tsp ginger-garlic paste
1/2 tsp red chilli powder
1 tsp tandoori masala powder
1/2 tsp chaat masala powder
2 tbsp thick yogurt (dahi/curd)
Fresh coriander leaves, finely chopped
2 tsp oil
Salt to taste
Instructions
Mix all the vegetables in a big bowl. Add curd, ginger garlic paste and spices.
Mix all the ingredients very well and then add good amount of chopper coriander leaves. Add in salt and dry spices, cover the bowl and Keep the marination aside at least for 30 minutes.
Heat a non-stick pan and add 1 tsp of oil. When the oil is hot enough, throw in the marinated potatoes and veggies. Stir fry on a low flame for 5-6 minutes, till the vegetables absorb juices of marinade. Carefully turn the vegetables without mashing the potatoes. Cook till a nice colored golden spots can be seen on potatoes. Garnish with chopped coriander leaves if you want.
Enjoy as a starter with a Dip or Sauce of your choice.
Notes
Aloo Chaat is generally served as an Evening Snack Dish.
Tasty Indian Recipes
Chef Tip:
I like to serve them with my coriander chutney and fresh tomato sauce.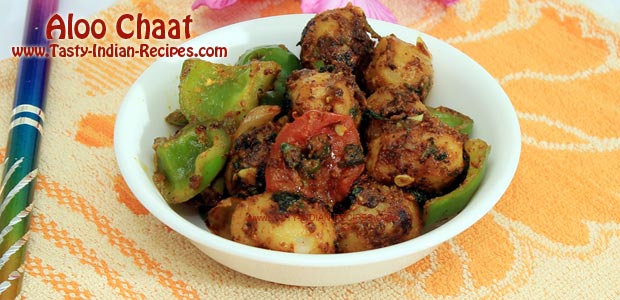 ALTERNATIVELY you can make it in oven as well.
Preheat the oven at 250 degrees F and grease the baking tray with some oil or butter, lined up with aluminum foil.
Place the marinated vegetables and potatoes.
Bake for 5 minutes, the turn them carefully and bake for 5 more minutes.