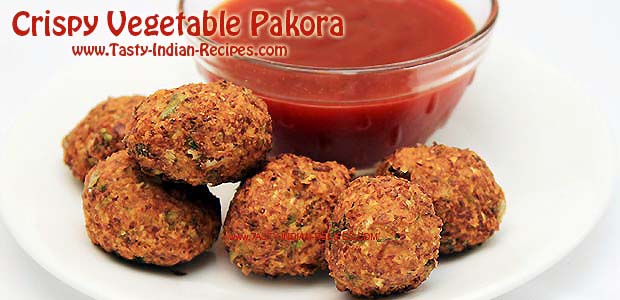 Crispy Vegetable Pakora Recipe is the most tastiest Indian snack dish, best to serve with evening tea. Several healthy vegetables are incorporated with the mixture of gram flour and spices, fried in hot oil and turns into really amazing pakode.
Mix Vegetable Pakore are deep fried crispy pakore that can be easily made, even when you have to welcome sudden guests in your house. All the vegetables are generally kept in our fridge, but if any of the vegetable is missing, then too go ahead.
The taste of spices, few veggies and crunchiness of chickpea flour is enough to make irresistible Deep Fried Crispy Vegetable Pakora Recipe. Let us show you how to make Deep crunchy mix vegetable pakore with easy steps.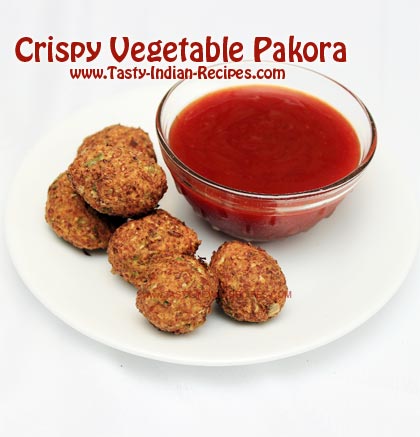 How to make Crispy Vegetable Pakora Recipe:
Crispy Vegetable Pakora Recipe
Crispy Vegetable Pakora Recipe is the tastiest Indian Snack Dish. Several healthy Vegetables are incorporated with the mixture of Gram flour and Spices.
Ingredients
2 cups Chickpea Flour (Besan)
A pinch of baking soda
3 green chillies, finely chopped
1/2 tsp cumin seed powder
1/2 cup cabbage, chopped
1/2 cup cauliflower, florets
1 small capsicum, sliced
1 small carrot, peeled and chopped
1/2 cup spinach leaves, chopped
1 boiled and mashed potato (optional)
1/2 tsp red chilli powder
1/2 tsp turmeric powder
Fresh coriander leaves, finely chopped
Oil for deep frying
Instructions
Mix all the chopped vegetables and green chillies in a chopper. Chop them very finely. (just like we do for making manchurian). Put the chopped vegetables in a muslin cloth. Squeeze the water from veggies as much as you can do.
Now mix besan, mashed potatoes, salt, baking soda, red chilli powder, turmeric powder and cumin seed powder in vegetables.
Knead the prepared mixture with your hands for making small balls. Make small round or oval shaped balls from the mixture.
Heat the oil in a frying pan. Drop few pakore at a time and flip carefully with the spatula.
Fry till the pakode turns crispy and golden brown. Drain on paper towels.
Notes
You can serve Crispy Vegetable Pakora with evening cup of tea. Kids like these Pakore with Tomato Ketchup.
Tasty Indian Recipes
Chef Tips:
Serve crispy vegetable pakora immediately with coriander chutney or mint chutney.
These vegetable Pakore can be used for making vegetable kofta curry recipe.

Crispy Vegetable Pakora