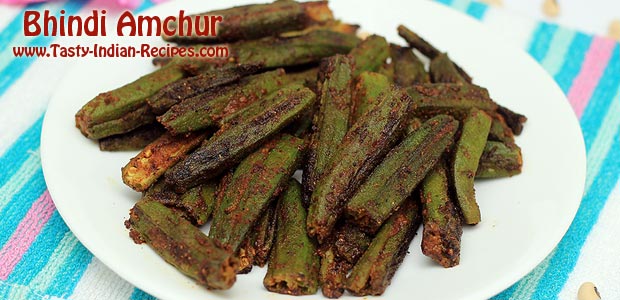 Bhindi Amchur is a little tangy flavored, crispy bhindi recipe. A wonderful preparation of Indian okra / bhindi with a unique tang of amchur (dry mango powder) and chaat masala.
Amchuri Bhindi Recipe is just like a Bharwan Bhindi, where the spices brings out the sweetness of the okra and the dry mango powder lends a slight tangy touch. It's a complete flavor packed Bhindi Dish to serve with Jeera Rice and Dal.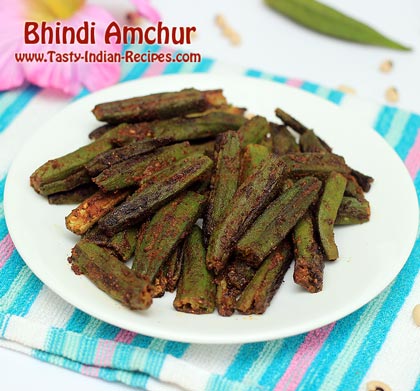 How to make Bhindi Amchur Recipe :
Bhindi Amchur Recipe is a tangy flavored, Crispy Bhindi Recipe. Indian okra / bhindi is cooked in a unique tang of amchur and chaat masala.
Ingredients
300 gm Ladyfingers (bhindi / okra)
1/2 tsp Fennel seeds powder (saunf)
1/2 tsp dried mango powder (amchur)
1 tsp red chilli powder (or as per your taste)
1/2 tsp turmeric powder
1 tsp coriander powder
3/4 tsp garam masala powder
1/2 tsp roasted cumin seeds powder (jeera)
1/2 tsp chaat masala
2 tbsp cooking oil/ghee
Salt to taste
Instructions
Wash the bhindi in normal tap water, trim from both ends and make a slit on one side without cutting through. Also Combine all the spices in a big bowl.
Stuff the prepared masala mixture into the slits of ladyfingers. Heat oil or ghee in a non-stick pan. Arrange the stuffed ladyfingers at a proper distance.
Keep the flame very low and cover the pan. Leave to cook for about 6-7 minutes, covered.
Now the bhindi turns soft and gets cooked from inside. Uncover and cook for 2 more minutes, to turn crispy from outside as well.
Serve either as a side dish with hot Indian chapati or make a meal with rice and dal.
Notes
Another way of making Amchuri Bhindi Recipe is, you can cut the bhindi in small pieces, toss in same spice mixture and stir fry in a non-stick pan. Still the taste will be same. Place few bhindi's in the center of chapati, make a roll and pack it for the School Tiffin of your kids. You kids are definitely going to love it.
Tasty Indian Recipes
Further Reading:
You may also like Aloo Bhindi Fry and Microwave Bhindi.