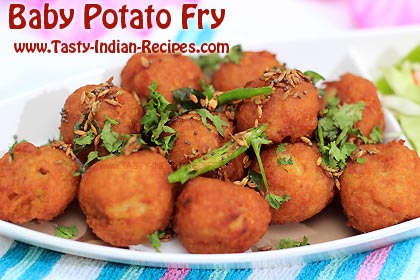 Baby Potato Fry Recipe is very fast and easy snack recipe made with small baby potatoes. It's a classic North Indian style stir-fried potatoes, cooked in few mild spices and can be served as a side dish with Indian flat bread.
I gave a little twist of some flavors to my fried baby potatoes and now they are extremely delicious to serve as my evening snack dish.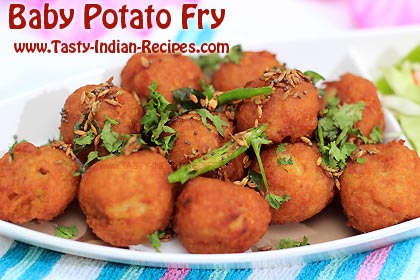 How to make Baby Potato Fry Recipe :
Baby Potatoes Fry is the simplest form of Easy making Snack Dishes, made with small / Baby Potatoes. Here Stir-fried potatoes are flavored with Cumin Seeds.
Ingredients
200 gm baby potatoes
1/2 tsp cumin seeds
1/2 tsp mustard seeds
Few springs curry leaves (curry patta)
1 slit green chilli
1/2 tsp red chilli power
1/2 tsp turmeric powder
1/2 tsp coriander powder
1/2 tsp garam masala powder
1/4 tsp fresh lemon juice
Fresh coriander leaves, finely chopped
Oil for shallow frying
Salt to taste
Instructions
Pressure cook the baby potatoes for 2-3 whistles.
Make sure, after cooking, baby potatoes must be soft and not mushy. Also they should retain their shape.
Peel the skin of baby potatoes and keep aside.
In a small bowl, combine 2 tbsp of oil, red chilli powder, turmeric powder, coriander powder, garam masala powder, lemon juice and salt to taste.
Mix very well and dip the potatoes in a prepared spice mix.
Potatoes must be coated very well in the mixture.
Let it sit for 10-15 minutes, till they absorb all the flavors.
Heat good amount of oil in a frying pan.
Drop few potatoes at a time in hot oil and cook on a medium high flame, till they are nicely browned.
Drain on oil absorbent paper napkin and repeat the same procedure for making rest of potatoes.
Now heat 1/2 tsp of oil in a saucepan.
Add cumin seeds, mustard seeds, curry leaves and slit green chilli.
Saute for a few seconds and pour over fried baby potatoes.
Garnish with chopped coriander and serve yummy.
Notes
This mouth-melting baby potatoes snack dish is best to serve with mint and mango chutney. Sometimes I serve them at lunch time with masoor dal and vegetable rice. You can even do half of the preparation well in advance and quickly toss with spices just before serving.
Tasty Indian Recipes