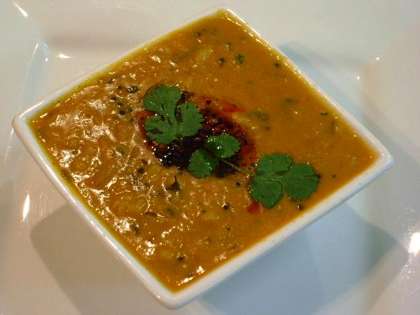 Making restaurant style Masoor Daal is not a rocket science, it can be easily made at home. If you want to make restaurant style masoor dal recipe then use jalapeno chillies to make it more flavorful and fragrant.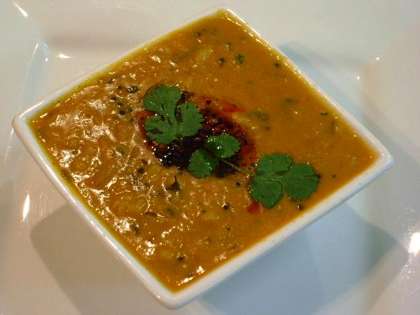 Preparation time: 10 minutes
Cooking time: 30-35 minutes
Servings: 6
Ingredients:
3 cups masoor dal
4-5 garlic cloves finely chopped
1 (1-inch piece) ginger root chopped
2 small onions finely chopped
4 tomatoes chopped
3 jalapeno chilies finely chopped
1/2 tsp red pepper
3/4 tsp turmeric powder
1 tsp garam masala powder
2 tbsp fresh cilantro (rinsed and chopped)
Salt to taste
2-1/2 tsp cooking oil
How to make Masoor Dal :
Rinse masoor dal thoroughly for 3-4 times until water is clear.
Bring 4 cups of water on few boils and add masoor dal.
Cook dal half way for about 10 minutes.
Add salt and spices and mix very well.
Cook the dal uncovered until water evaporates and dal thickens.
You can mix more amount of water to keep dal loose.
Heat a pan and add oil.
When the oil is properly hot then add onions to fry.
Keep stirring until onions turns brownish in color.
Add ginger, garlic and green chillies.
Fry continue by adding chopped tomatoes.
Adjust with some spices and keep stirring until mixture starts to stick little bit in the bottom of the pan.
Pour the prepared mixture into masoor dal and simmer to blend flavors.
Taste and adjust with some seasoning if required.
Garnish with good amount of chopped cilantro and Serve hot.