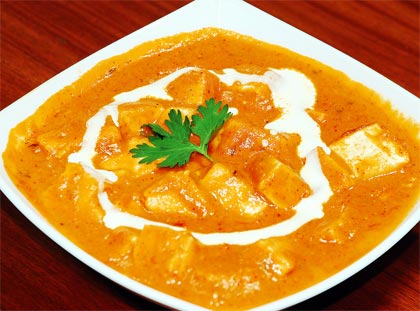 Shahi Paneer Recipe consists a unique combination of red and white gravy in which paneer (Indian cottage cheese) can be cooked either in cubes or grated in the gravy to give rich and creamy flavor while serving. It is an occasional and most famous Punjabi recipe.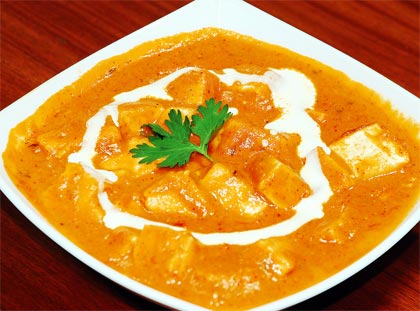 Preparation time: 10 minutes
Cooking time: 25 minutes
Servings: 4
Ingredients:
250 gms cottage cheese (paneer)
2 tsp Ginger-garlic paste
4 green chillies paste
4 tomatoes pureed
1/2 cup fresh cream
1 tsp mawa
1/2 tsp White Pepper Powder
1/2 tsp Red Chilli Powder
1 tsp Garam Masala Powder
5-6 Cashew Nuts
1/2 tsp khas-khas
1/2 tsp watermelon seeds (dry)
Salt to taste
Raisins to garnish
Fresh chopped cilantro to garnish
How to make Shahi Paneer:
In a bowl cut the pieces of paneer in small cubes, sprinkle some salt, mix well and keep aside.
In a grinding bowl add cashew nuts, khas-kha, watermelon seeds and little bit of water, grind into a smooth paste.
Heat oil or butter in a pan.
Add ginger-garlic paste and saute for a minutes
Add green chilli paste, cashew nuts paste and cook for 2-3 minutes on low heat.
Add puree of tomatoes, salt, white pepper powder, red chilli powder and cover the pan.
Cook the mixture by stirring for 2-3 minutes and add 1 cup of water.
Add paneer and simmer for 2 minutes, cook over medium-low heat till gravy looks slightly thick in consistency.
Add fresh cream and grated mawa, stir well.
Add garam masala, mix gently and leave to set for a couple of minutes.
Garnish with raisins and fresh cilantro.
Serve hot with rice or naan.
Chef Tips:
You can use grated paneer instead of paneer cubes in the same gravy.
You can add chopped onion after ginger-garlic paste.
You can garnish Shahi Paneer with grated paneer and cardamoms as well.
Garnishing with raisins is optional, you may garnish with your choice of dried fruits.