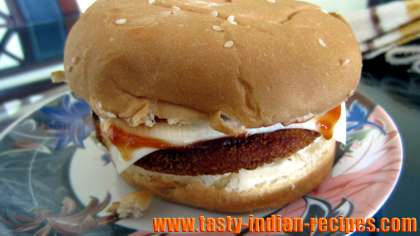 Vegetable Burger is an all time favorite snack dish, adored by kids and elders. Now you can make your favorite vegetable burger at any time whenever you want. No need to worry about calories, because I'm gonna make a whole wheat vegetable burger by avoiding most of fatty ingredients such as mayonnaise, South west sauce, cream and high calorie cheese.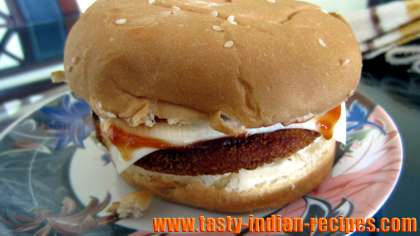 Prep time:
Cook time:
Total time:
Yield: 10 servings
Ingredients :
For making the Vegetable Cutlets you will require:
2 cups mixed vegetables (chopped and boiled)
4 big potatoes (boiled and mashed)
2 tsp ginger-garlic paste
4 bread slices (ground into a fine breadcrumb)
4 green chillies (finely chopped)
1/2 tsp garam masala powder
1 tsp fresh lemon juice
Salt to taste
Oil for frying
For the filling of burger you will require:
1 cup tomato ketchup
1/2 cup softened low fat butter
1/2 cup low fat cream (bought from market)
Few lettuce leaves
1 cup carrot (peeled and grated)
1 cup shredded cabbage
2 small onions (cut into rings)
2 tomatoes (cut into thin rings)
2 cucumber (cut into thin slices/rings)
10 low fat cheese slices
For The Burgers :
10 burger buns (I prefer buying these buns from Mongini's Cake shop, because, there they are always fresh and soft)
How to make Vegetable Burger at home:
For making the cutlets, take a big bowl and mix the boiled vegetables, mashed potatoes, breadcrumb, salt, ginger-garlic paste, chopped chillies, lemon juice and garam masala powder very well.
Add little bit of oil and make a soft patty dough.
Make small, flattened round patties from the prepared patty dough and press firmly to create a thin patty.
Heat good amount of oil in a big frying pan and deep fry the cutlets till turns golden brown and crispy.
Drain on oil absorbent paper and set aside.
Just before serving the burger, cut each burger bun into two and little toast them either in the oven or on the hot griddle (tawa).
Spread a little tomato ketchup, salad cream and butter in lower half of the bun.
Chop some lettuce with your hands and arrange over the sauce, place the grated carrot and shredded cabbage as well.
Now place the cutlet and then place a cheese slice,
Also arrange the 2-3 rings of onion, tomato and cucumber.
Spread some salad cream on top and cover the burger with the remaining half of the bun.
Your low calorie, homemade burger is ready to rock.
Repeat with the remaining ingredients to make 9 more burgers.
Nutrient values per burger :
Calories    430 cal
Fat               21.8 gm