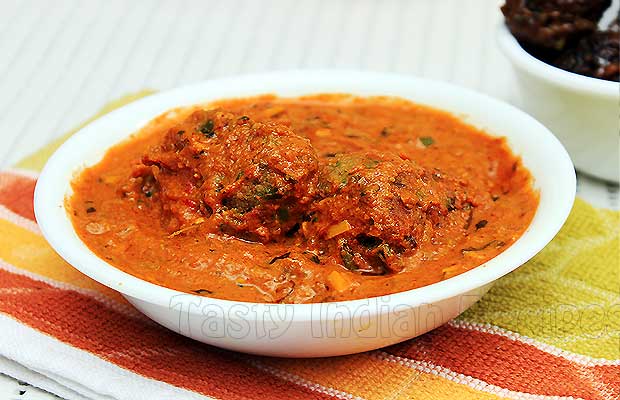 Vegetable kofta curry is the most amazing combination of several healthy vegetables. Kofta are extremely tasty in eating, and you can really feel a crunchy taste and flavor of each and every vegetable you are putting into it. Gravy is tremendously awesome and fragrant with fennel seeds and whole garam masala. You can choose to add vegetables of your choice and cook it in same style thick red gravy or curry.
Mixed Vegetable Kofta Curry is a mild and rich gravy recipe, in which I have added fried vegetable koftas and the curry turned out so good that we all enjoyed it with  soft chapatis.
Ingredients for Whole garam masala:
2-3 cloves
1 inch cinnamon
2 green cardamom
1 bay leaf
1 tsp cumin seeds (jeera)
1 tsp fennel seeds (saunf)
Few curry leaves
Chef Tips:
Serve hot with jeera rice or plain Indian chapati.
This kofta curry is best to serve with roomali roti or sometimes with butter naan.
You can add the koftas to the curry just before serving.
Adjust spices to your taste, the above mentioned spice level will give u a little hot kofta curry.
Taste the salt level on regular basis, because the fried koftas already contains salt.
How to make Vegetable Kofta Curry Recipe:
Vegetable Kofta Curry Recipe
Vegetable Kofta Curry Recipe is a thick curd based curry recipe, in which Crispy Vegetable Pakode are cooked and flavored with Indian Spices and Masala.
Ingredients
2 tablespoon bengal gram flour (besan)
4 pieces of garlic
1 teaspoon ginger
2 green chillies
1/2 cup turnip, cut into big chunks
1/2 cup carrot, cut into big pieces
1/2 cup capsicum, sliced
1/2 cup radish / muli, cut into big pieces
1 cup cauliflower florets
1/2 cup cabbage, shredded
1 cup onion, chopped (for making gravy)
2 cups chopped tomatoes (for making gravy)
1/2 teaspoon red chilli powder
1/2 teaspoon turmeric powder
1/4 teaspoon ground black pepper
1 cup thick curd
1 teaspoon shredded coconut
1 teaspoon coriander powder
1 tablespoon coriander leaves, finely chopped
Salt to taste
Cooking oil for frying
Instructions
Keep all the veggies ready for making fried kofta and its curry. Mix the chopped vegetables (except onion and tomato), ginger, garlic and green chillies in a chopper. Chop them very finely. (just like we do for making manchurian).
Put the chopped vegetables in a muslin cloth. Squeeze the water from veggies as much as you can do. Do not throw the water, but reserve it for making it's gravy. Now mix besan, mashed potatoes, salt, red chilli powder, turmeric powder and ground black pepper in vegetables.
Knead the prepared mixture with your hands for making small balls. Make small round or oval shaped balls from the mixture. Just like shown in picture. Heat good amount of oil in a frying pan and deep fry the kofta's on a moderate flame, till they turn crispy and brown. Drain on oil absorbent paper napkin and keep aside.
Now heat 2 tbsp of oil in a non-stick pan, add whole garam masala. Saute for a while and then add chopped onion. Cook till the onion transparent. Cool down the onion mixture in the pan itself just for few minutes, so that we can blend it. Now mix the onion with whole garam masala and chopped tomatoes into a grinding jar. Grind until we get a smooth puree of it. You can really feel the fresh fragrant of whole garam masala.
Heat the same pan and add prepared puree. Mix little bit of salt and cover the pan. Leave to cook for 2 minutes on a low flame, till the puree turns into a nice red color and oil begins to separate. Now mix the curd and stir continue to get a good gravy or curry. Stir in fried vegetable kofta and mix reserved water. I do not want my curry too thin or watery, hence not adding extra water in it. You can add more water, if you want.
Wait for a good boil of a curry. Add shredded coconut and mix well. Cook for one more minute and garnish with handful coriander leaves
Notes
Add Koftas before serving and serve with roti (Indian bread).
Tasty Indian Recipes