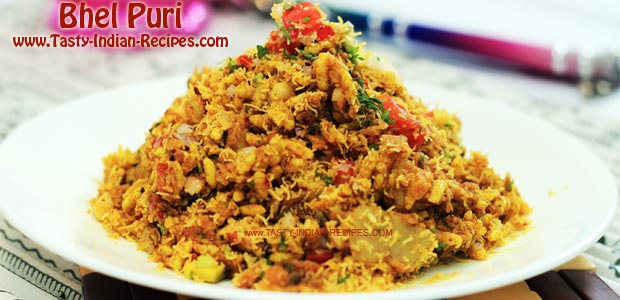 Bhel Puri is the famous Indian chaat or snack dish, made with puffed rice and the mixture of vegetables, sev and gol gappa. It is flavored with coriander and tamarind chutney and garnished with grapes, etc. Arrange all the ingredients and enjoy the delicious home made bhel puri.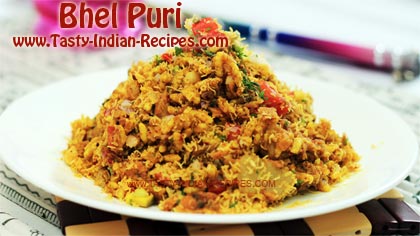 Preparation time: 5 minutes
Cooking time: 5
Servings: 4
Ingredients:
2 cups kurmura (puffed rice)
1 medium size onion thinly chopped
1/2 cup pre-boiled potatoes (mashed or chopped)
1 tomato thinly chopped (remove pulp)
3-4 green chillies thinly chopped
1/2 cup tamarind chutney
2 tbsp coriander chutney
2 tbsp coriander leaves chopped
1 tbsp mint leaves chopped
1/2 cup sev
1/2 cup nimkis
5-6 gol gappas (ready made)
Chaat masala to sprinkle
Few pomegranate seeds to sprinkle
Few grapes (chopped) to garnish
How to make Bhel Puri:
Combine the kurmura, onion, potatoes and tomatoes very well in a big bowl.
Add green chillies and stir the mixture with tamarind chutney and coriander chutney.
Crush the gol gappas and nimkis directly into the mixture.
Mix well and add sev. Mix very well.
Garnish with chopped coriander and mint leaves.
Sprinkle chaat masala all over and top with few seeds of pomegranate and chopped grapes.
Serve immediately.
Chef Tips:
This is the best chaat can be eaten on daily basis, you just need to serve it immediately, else become soggy in few minutes.
Roasted kurmura can be used to make delicious bhel puri.
Make sure that gol gappas, nimkis and sev must be fresh enough before using for the dish.