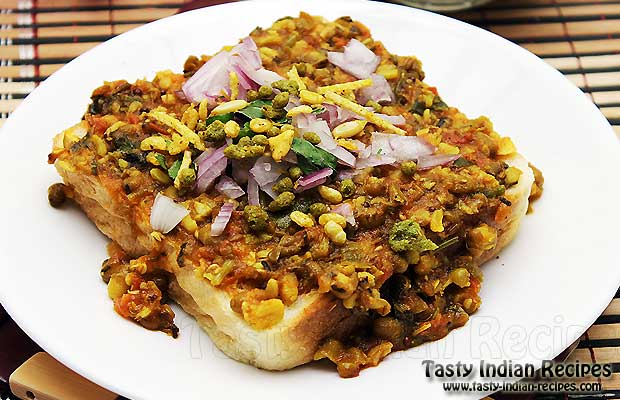 Dal Sandwich is a delicious snack dish, here yummy toast is topped with cooked moong dal and then garnished with nylon sev and spices. This is one of the tastiest street chaat to fill the hungry stomach.
Preparation time: 15 minutes
Cooking time: 30 minutes
Servings: 4
Ingredients:
For making Dal you need:
1 cup moong dal (soaked in 2 cups water)
Salt as per taste
1/2 tsp red chilli powder
1/4 tsp turmeric powder
1 whole dried red chilli
1/2 tsp vegetable oil
1/2 tsp mustard seeds
1/4 tsp garam masala powder
For making Sandwich you need:
8 bread slices (brown or white)
1 medium size potato (boiled and peeled)
2 small size tomatoes thinly chopped
1 medium size onion
1 beet root (boiled and peeled)
4 tbsp coriander chutney
2 tbsp margarine or butter
Salt as per taste
1/2 tsp red chilli powder
1/2 tsp black pepper powder
2 tbsp vegetable oil
Fresh coriander chopped
Nylon sev (store bought)
Chaat masala to taste
How to make Dal Sandwich:
Heat the pressure cooker and add soaked dal, water, salt, red chilli powder and turmeric powder.
Mix well, cover the cooker with its lid and pressure cook dal for 4-5 whistles.
Uncover and mash completely, add water if required.
Now leave dal to boil on medium low flame.
The consistency of dal must thick enough to make the sandwich.
Heat the oil in a saucepan, add mustard seeds, curry leaves and dried red chilli.
Allow to splutter and pour directly over the boiling dal.
Finally stir with garam masala powder and keep aside.
Cut the potatoes, tomatoes, onion and beetroot in thin round slices.
Place all the bread slices on flat chopping board.
Apply butter and coriander chutney on each and every bread slice.
Place few rounds of potatoes, beetroot, tomato and onion on 4 bread slices.
Sprinkle little bit of salt and cover with another 4 buttery bread slices.
Heat the tawa and drizzle some oil.
Place the sandwiches on heating tawa and toast them on medium high flame until turn into nice golden brown in color. Allow them to cook on low flame and put a pressure upon the sandwiches.
Arrange each toast on individual serving plate, cut into 4-6 pieces, drop few spoons of dal (dal must be piping hot), sprinkle the spices, coriander and nylon sev.
Serve immediately.
Chef Tips:
You can put the slices of cucumber and capsicum inside the bread slices.
Serve this sandwich immediately, else will become soggy.
You can top it with grated cheese for making more yummy.
These sandwiches can be made in the oven or toast maker also.