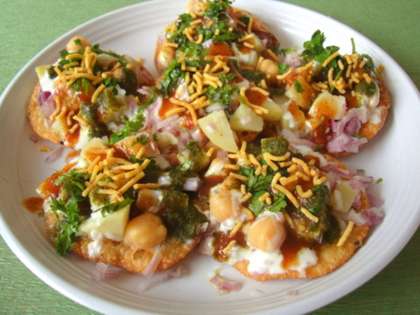 Papdi chaat (Batan Papdi) is a mouth melting chaat or snack dish, here bread buttons are topped with delicious mixture of onion and potatoes, then flavored with chutney and finally garnished with papdi and nylon sev. The unique chaat would really helps you in getting the compliments.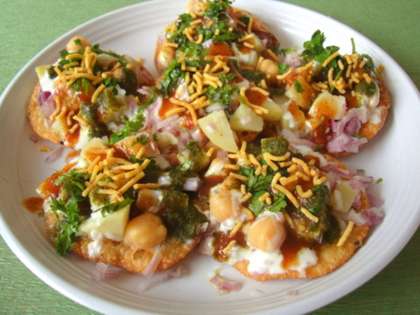 Preparation time: 6 minutes
Cooking time: nil
Servings: 3 plates
Ingredients:
15 battan (for making 3 plates)
1 cup papdi (store bought)
2 medium onions thinly chopped
2 medium potatoes (boiled and peeled)
1 cup tamarind chutney
2 tbsp spicy coriander chutney
1 cup nylon sev
Few coriander leaves thinly chopped
Salt as per taste
Red chilli powder to sprinkle
Chaat masala to sprinkle
How to make Batan Papdi:
Chop the boiled potatoes in tiny pieces.
Sprinkle little bit of salt.
Place 5 batans (porous side upward) in individual 3 serving plates.
Arrange few onions and potatoes.
Sprinkle little bit of coriander chutney and crush the papdi all over.
Also spread nylon sev and chopped coriander.
Sprinkle all the spices as per your taste.
Finally pour tamarind chutney all over in such a way that the batan must be immersed completely.
Again sprinkle few coriander and serve immediately.
Chef Tips:
Do not delay at the time of serving, else the battan will become soggy.
If you want more spicy batan papadi then add more amount of spicy coriander chutney.
You can use combination of mint and coriander chutney.