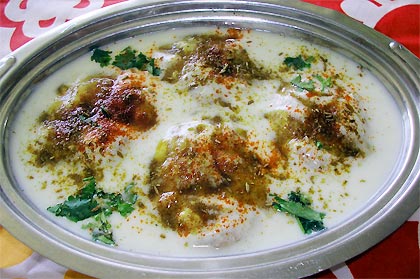 Potato Dahiwada Recipe is the special curd preparation of boiled potatoes into the beaten curd mixture. Here wada are made from boiled potatoes and Indian spices, then mixed in the beaten curd (dahi / yogurt) and spiced up with some flavors. These are the special type of wada that owns a special place in the menu of Diwali festival.
For Best Results, soak Dahiwada's for at least 1 hour before serving
Dahiwada is very famous Indian Snack Recipe and is served in most Wedding and parties as complimentary dish because it provides wonderful milky flavors when eaten with other Indian Recipes.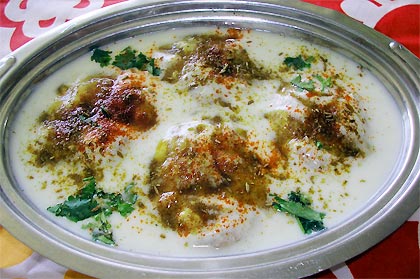 How to make Potato Dahiwada:
Potato Dahiwada Recipe is made from boiled potatoes and Indian spices, then mixed in the beaten curd (dahi / yogurt) and spiced up with some flavors.
Ingredients
1/2 kg potatoes (boiled and mashed)
4 green chillies thinly chopped
2 tsp ginger-garlic paste
4 cups curd
1/2 tsp cumin powder
3/4 tsp garam masala powder
6 bread slices
1/2 tbsp red chilli powder
1/2 tsp black pepper powder
1 tsp chaat masala powder
Freshly chopped cilantro
Salt as per taste
Oil to deep fry
Instructions
Keep the mashed potatoes in a big bowl. Add salt, red chilli powder, garam masala powder, cumin powder, green chillies and ginger-garlic paste. Mix very well just like you knead any dough.
Take the bread slices and cut in round shape either with the help of a mould or use any round shaped katori or bowl to make the rounds of bread slices. Apply a bit of water on each round of bread slice.
Spread about 2 tbsp of potato mixture on the round slices evenly. Flatten the mixture very well and cover the whole bread.
Heat sufficient oil in a pan and fry the rounds until turns into nice golden brown. Remove off on a paper napkin to get off the excess amount of oil. Allow the vadas to cool completely.
In the meantime whisk the curd thoroughly, add little bit of water and adjust with the salt. Pour the fried wada into the curd mixture and spice up with black pepper powder and chaat masala powder.
Garnish with thinly chopped cilantro and serve with tamarind chutney.
Notes
You may use more amount of water if the potato mixture does not stick on the round bread slices.
Tasty Indian Recipes
Chef Tips:
You can serve these yummy potato dahi wada's either immediately or refrigerate for an hour and then serve.
You may again sprinkle some red chilli powder at the time of serving to make them more flavorful.
You can also add little bit of sugar into the curd, so that the kids will really love to eat them.