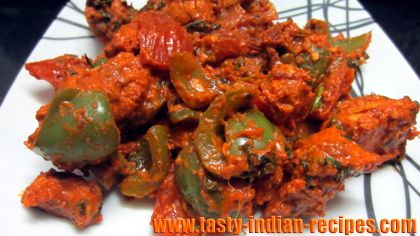 Chicken Chilli Milli Kebab is the exotic tandoori kebab recipe made with special marination of yogurt and spices, contains the flavor of various healthy and tasty vegetables along with the boneless chicken breast. This particular kebab is extremely delicious in taste and most amazingly it can be easily made at home.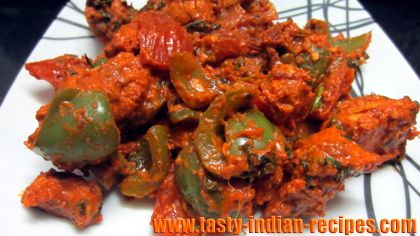 Preparation time: 15 minutes
Cooking time: 25 minutes
Servings: 4
Ingredients:
2 chicken breast (boneless)
1 onion diced
1 green bell pepper diced
2 small tomatoes diced (remove pulp)
2 tbsp fresh yogurt (curd, dahi)
1 tsp lemon juice
2 tbsp ginger-garlic paste
2 green chillies chopped
1 tsp red chilli powder
A pinch of red-orange food color.
1/2 tsp coriander powder
2 tsp tandoori masala powder (store bought)
Fresh cilantro chopped
1/2 tsp butter
2 tsp vegetable oil
Salt to taste
How to make Chicken Chilli Milli Kebab:
Keep the yogurt in the tea strainer to drain the whole water.
In the meantime wash and clean the chicken breast and cut into medium size pieces.
Apply salt, red chilli powder and lemon juice on the chopped pieces of chicken and keep aside.
Combine the yogurt, salt, food color, coriander powder and tandoori masala powder.
Also add green chillies and ginger-garlic paste.
Mix well and add the pieces of chicken, onion, tomato and bell pepper.
Mix well, cover the bowl and keep aside at least for an hour.
Heat the non-stick pan and add oil.
When the oil is hot enough then add the marinated chicken with the veggies.
Mix well and cover the pan.
Leave to cook on low flame until chicken tenders.
Just before serving pour butter and sprinkle chopped cilantro.
Serve hot with salad and chutney.
Chef Tips:
This dish is best to serve as a mouth watering starter or appetizer.
It is important to keep the curd in the strainer to make it thick, which is good for this type of marination.
You can make this kebab in the oven or tandoor also.
I kept the marinated chicken for an hour, its because i needed to welcome sudden guest in my house, otherwise it can be kept for overnight also.
Tandoori masala powder is available with various brands in the market.