Hariyali Chicken Kabab (Green Chicken Kabab) is one of the most famous Indian Kabab dish generally served in almost every Indian Restaurant. Boneless chicken pieces are marinated in the mixture of Curd, Spinach and Mint Leaves and grilled in oven.
After a long search, finally i was impressed with this Easy & Simple Hariyali Chicken and tried to make it. The flavors and fragrance of rich green vegetables inculcates the aroma in this kebab dish. In Hindi Hariyali means Greenery/Green and Hariyali Chicken Kabab means chicken kebab with Greens Paste.
I must say that this Hariyali Chicken Kabab turned out awesome, when I made it with proper ingredients. My whole family enjoyed it with spicy coriander chutney and cabbage kachumber. A must try for all the chicken kabab lovers.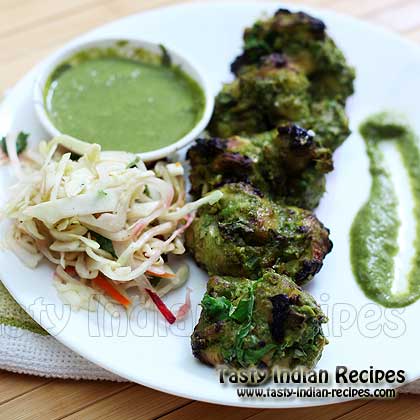 How to make Hariyali Chicken Kabab:
Hariyali Chicken Kabab (Green Chicken Kabab) Recipe
Hariyali Chicken Kabab Recipe is made by marinated the Boneless Chicken Pieces in Green Paste of Mint, Coriander, Methi and Spinach Leaves. Curd or Dahi and some Flavorful Spices are also added and then Grilled the Chicken Pieces in oven.
Ingredients
400 gm boneless chicken breast
3 tablespoon thick curd
2 teaspoon lemon juice
1 cup coriander leaves
1 cup mint leaves
1/2 cup methi leaves (fenugreek) chopped
1/2 cup spinach leaves, chopped
1-1/2 inch ginger piece
6-8 cloves garlic
4-5 green chilies thinly chopped
1/2 teaspoon red chili powder
2 teaspoon coriander powder
1-1/2 teaspoon garam masala powder
1 teaspoon butter
2 tablespoon cooking oil
Salt to taste
Bamboo skewer stick/sathe sticks to grill
Instructions
Wash the chicken breast and cut into medium size chunks. Apply salt, butter, lemon juice and red chilli powder on the chicken pieces and keep aside for 10-15 minutes.
In the meantime, chop the methi leaves thinly, boil in little amount of water and drain aside. Combine the boiled methi, spinach, coriander-mint leaves, ginger, garlic and green chilies. Grind into a smooth paste.
Now add curd and spices in ground paste of leaves and coat the chicken pieces very well in it. Cover the marinated chicken and keep it aside at least for 20 minutes, so that chicken gets the aroma and flavors of green paste and spices.
Soak the wooden skewers in normal water for about 4-5 minutes. Apply some oil on the skewers and arrange the pieces of chicken onto the skewers. Spread some more oil on top of the chicken pieces.
Preheat the oven at degrees 350F for 5 minutes and place the skewers in the oven. Leave to grill for about 15-18 minutes.
Keep checking and turn the skewer sticks to cook evenly from all the sides. Grill till the kabab is well done. Remove the kabab from the skewers and arrange on the serving plate. Serve hot with lemon wedges, cabbage kachumber and spicy green chutney.
Notes
You may use Tandoor for restaurant like taste.
Tasty Indian Recipes
Chef Tips:
You can make this delicious kabab in the pan or even in the broiler as well.
You can use some vegetables such as diced onion, tomatoes, red bell pepper and yellow bell pepper, and then you need to marinate them with chicken.