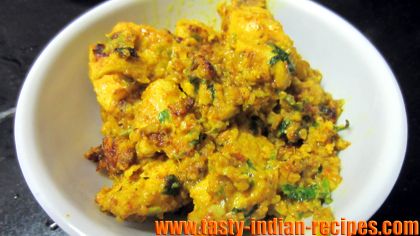 Yellow chicken is flavored with mustard, olive oil, Worcestershire sauce and butter. The unique preparation of this chicken makes it an ultimate dry chicken dish, which further can be turned into spicy curry recipe.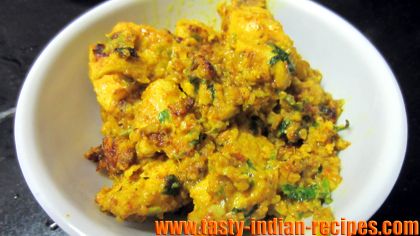 Preparation time: 20 minutes
Cooking time: 35-40 minutes
Servings: 6
Ingredients:
1 kg chicken breast (boneless and skinless)
1 tbsp olive oil
2 tsp mustard powder
1-1/2 tsp turmeric powder
4 cloves garlic minced
2 green chillies paste
1/2 tsp sesame seeds paste
1 tbsp almonds paste
2 tbsp Worcestershire sauce
1 tsp oil or butter
A pinch of salt
A pinch of pepper powder
How to make Yellow Chicken:
Clean the chicken breast and cut into halves.
Combine all the ingredients and mix well.
Preheat the oven to 400F degrees on high.
Grease the oven baking tray with little bit of oil.
Arrange the chicken halves on the baking tray and top with the mixture of spices and sauce.
Brush with little amount of oil.
Leave to bake for about 30-35 minutes.
When the chicken seems done and juicy, then take out from the oven.
Serve immediately with chutney and kachumber salad.
Chef Tips:
You can make this same style chicken in the pan as well, for that you just need to marinade the chicken halves into the mixture, keep aside for an hour and then roast in the pan with little amount of oil.
You can present this dish with the garnishing of cilantro and mint leaves.