Aloo Gobi Dry is an all time favorite combination and a quickly made Side dish to serve with Roti, Dal and Rice. Aloo and Gobi are cooked with Tomatoes and all tri colored bell peppers. It is a traditional Indian dish seasoned with typical Indian spices and spruced up with common ingredients like onion, green chilies and tomatoes.
I have made different variations of aloo gobi such as Aloo Gobi Fry, Dry Aloo Gobi Fry and Aloo Gobi Masala, but this Punjabi Recipe of Aloo Gobi is different from others and here I have given a unique touch of all colored bell peppers, which brings an ultimate flavor in this dish. The spice powders are the common India masala that we use in our regular cooking at home.
The magic of the garam masala and the dry mango powder is evident in aloo gobhi, as these spice powders really perk up the flavor of the subzi. Aloo Gobi Dry can be served with Indian roti, Vegetable Pulao or with Sindhi Bhuga Chawal. It is always as good as you like.
If you do not get yellow and red bell pepper then go ahead with green bell pepper (capsicum) only, the flavor of bell pepper is important here and this ingredient has brought lot of taste in simple aloo gobi dish. So let's start making it.
How to make Aloo Gobi Dry Recipe:
Aloo Gobi Dry Recipe is the Simple but very Tasty Punjabi Dish cooked with Aloo, Gobi, Bell Pepper and Indian Spices. It's a Side Indian Dish to serve with Chapati, Dal and Rice.
Ingredients
1 cup gobi (cauliflower) florets
2 medium aloo (potatoes), chopped
1 tbsp green bell pepper, sliced
1 tbsp yellow bell pepper, sliced
1 tbsp red bell pepper, sliced
1/2 onion, sliced
1 tomato, chopped
2 green chilies, finely chopped
1/2 tsp red chili powder
1/2 tsp turmeric powder
1/2 tsp coriander powder
1/2 tsp garam masala powder
1/4 tsp dry mango powder
1/2 cup cooking oil for shallow frying
Salt to taste
Instructions
Heat 1/2 cup of oil in a pan and shallow fry the aloo on medium flame.
When aloo are little browned, remove out from pan and now shallow fry gobi florets in same oil.
Drain fried aloo and keep aside.
Also drain shallow fried gobi and set it aside with aloo.
Take out the whole oil from the pan and leave only 1/2 tsp of oil in it. Now add chopped green chilies, sliced onion and sliced bell peppers.
Stir very well on low flame for 1-2 minutes, till the veggies tender.
When the vegetables are almost done, then mix in chopped tomatoes and stir in salt to taste. Keep cooking for a couple of minutes on low flame.
Now add fried aloo and gobi, 1/2 tsp red chili powder, 1/2 tsp turmeric powder, 1/2 tsp coriander powder, 1/2 tsp garam masala powder and 1/4 tsp dry mango powder.
Mix well and cover the pan. Leave to cook for 3-4 minutes, so that aloo and gobi blends with the flavors of bell pepper and spices.
Serve with Rice or Roti and Salad.
Notes
If you do not want to shallow fry aloo and gobi, then you can first saute it in little oil and then mix in veggies and spices, in such case, you will need to cook it for some more time. Another way of making this dish with less calories is, you can steam aloo and gobi and then cook with vegetables and spices.
Tasty Indian Recipes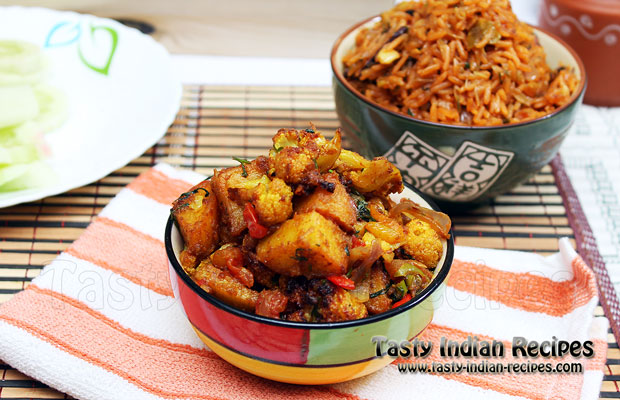 Chef Tips:
Adjust the spices as per your taste.
Cut the gobi in big florets, it tastes good with aloo and bell pepper.