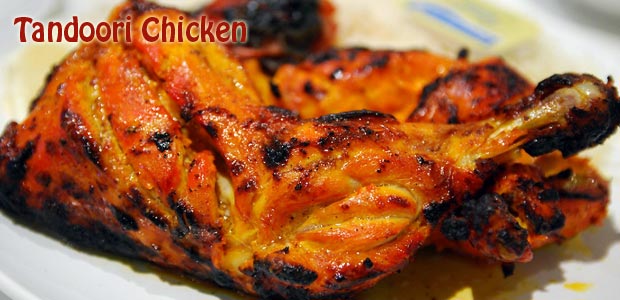 Tandoori Chicken is the special preparation of yogurt and tandoori masala. It is one of the most popular tandoori dish in India. Tandoori Chicken is typically made in clay oven of cylindrical shape which is also famous as tandoor. Whole chicken is marinated in yogurt and Indian spices and then roasted in a traditional tandoor. For bringing a nice color in the recipe, dark yellow color, red-orange food color and paprika is to be used in large quantity. The traditional way to make crispy and spicy tandoori chicken is clay oven, but now a days heavy preparation is done in barbecue grill as well. In every part of India tandoori chicken is treated as a best starter or appetizer before a meal. Learn to make quick and easy way to make tastiest tandoori chicken at home. We are also providing the detailed chart of nutritional facts of tandoori chicken.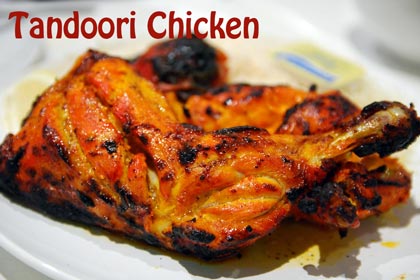 Preparation time: 10 minutes
Cooking time: 8-9 minutes
Servings: 4-5 persons
Ingredients:
1 kg chicken (boneless)
1-1/2 cups yogurt
1/2 tsp red-orange food color
1/2 tsp turmeric powder
3/4 tsp cumin powder
2 tbsp tandoori masala powder
1 tbsp lemon juice
2 tsp red chilli powder
1 tbsp coriander powder
Salt as per taste
4 tbsp vegetable/sunflower/canola oil
How to make Tandoori Chicken:
Wash and clean the chicken thoroughly in normal running water.
Cut into big chunks, apply salt and lemon juice and keep aside for few minutes.
In the meantime combine all the ingredients and add chicken.
Mix well and cover the bowl.
Keep in the refrigerator at least for 24 hours.
Heat the grill and place the marinated chicken over a baking tray.
Brush with little bit of oil and grill for about 8-9 minutes until chicken is completely cooked.
Serve hot with coriander chutney.
Chef Tips:
You may grill it in the oven or on the barbecue grill.
Garam masala can be used, if tandoori masala is not available.
The list below offers nutritional information of Tandoori Chicken including fat, carbs, protein and calories.
Nutrition Facts of Tandoori Chicken
Amount per serving
Servings: 1
Nutrition Facts:
Serving Size 314.5g
Calories ——————————>625
Calories from Fat——————->316
% Daily Value*
Total Fat—————————–>34.8g
53%
Saturated Fat———————–>7.8g
37%
Trans Fat—————————->0.0g
Cholesterol————————->205mg
66%
Sodium—————————— >830mg
34%
Total Carbohydrates—————>5.0g
2%
Sugars——————————–>4.5g
Protein——————————->68.8g
Vitamin A—————————->3%
Vitamin C—————————->7%
Calcium ——————————>16%
Iron———————————–>17%
Note:
Percentage of Daily Values are based on a 2,000 calorie diet. Your daily values may be higher or lower depending on your calorie needs.