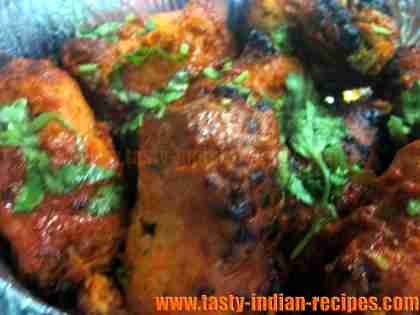 Fried Chicken is the simply delicious chicken recipe inculcates the blend of onion paste, curd and the spicy masala mixture. They are the awesome and crispy pieces of fried chicken which are best to serve as a starter or appetizer.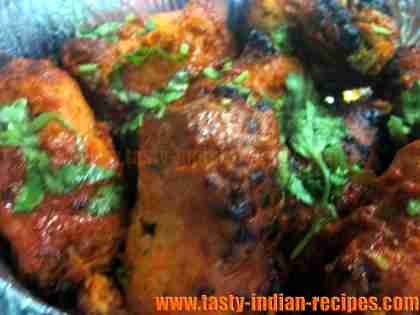 Preparation time: 20 minutes
Cooking time: 15 minutes
Servings: 4 persons
Ingredients:
500 gms whole chicken (cut into pieces)
1 tbsp onion paste
1/2 cup rice flour
1 tbsp curd
2 tbsp ginger-garlic paste
8 green chillies paste
1/4 tsp turmeric powder
1/2 tsp cumin powder
2 tsp coriander powder
1 tsp garam masala powder
Vegetable oil
1-1/2 tsp lemon juice
Salt to taste
How to make Fried Chicken:
Combine the curd, onion paste, rice flour, ginger-garlic paste and green chillies paste.
Mix well and add the pieces of chicken.
Now add salt, turmeric powder, cumin powder, coriander powder and garam masala powder.
Mix very well and coat the chicken pieces in the masala.
Finally add the lemon juice and 2 tsp oil.
Cover the bowl with a foil paper.
Keep this chicken mixture in the refrigerator for 2 hours.
Heat sufficient oil in a pan to shallow fry the chicken pieces.
Place 2-3 chicken pieces at a time in hot oil and make sure that they should not stick with each other.
Shallow fry until become crispy and golden brown in color.
Simmer the flame and fry evenly from all the sides.
Take out on oil absorbent paper and in the same way fry the remaining chicken pieces.
Serve hot with coriander chutney and kachumber salad.
Chef Tips:
I have used whole chicken, whereas boneless chicken is also the best option.
Fry the pieces of chicken on low heat, so that the they will get cooked from inside as well.