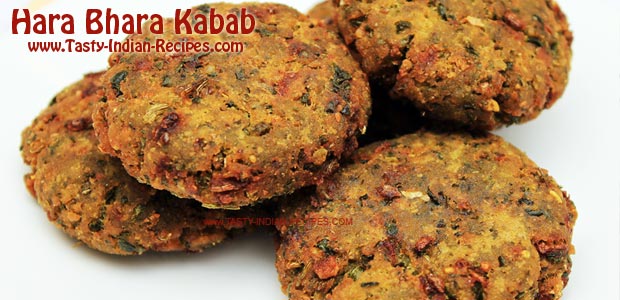 Hara Bhara Kabab is one of the most popular vegetarian kebabs in the world. This kebab dish is a quick and easy vegetarian kebab made with spinach, green peas, potatoes and spices. Yummy treats are fully bursting with flavors and the green color comes out from the healthy spinach, that makes them wonderful.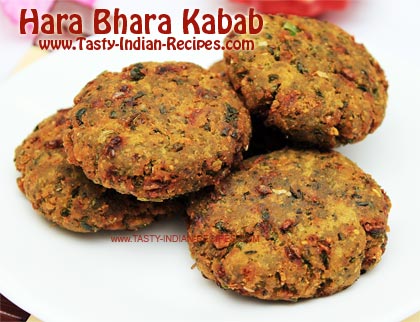 Prep time:
Cook time:
Total time:
Yield: 4 servings
Ingredients required for making Hara Bhara Kabab Recipe:
1 bunch spinach (palak)
1 cup green peas, frozen or fresh
4 medium size potatoes, boiled and peeled
4 green chillies, finely chopped
8 garlic pods, crushed
2 inch piece of ginger, minced
2 cups breadcrumbs
1/2 tsp red chilli powder
1/2 tsp turmeric powder
1/2 tsp garam masala  powder
1/3 tsp chaat masala powder
Salt to taste
Fresh coriander leaves, finely chopped
Oil to deep fry the kebabs
How to make Hara Bhara Kabab Recipe:
Let's have a look of ingredients, that I required for making Hara Bhara Kabab at home. Boil the spinach in its own water, also boil the green peas on a medium high flame.

Drain the water of spinach, as much as you can and then put it into the blender. Make a fine puree of spinach and shift into a big bowl. Mash the boiled potatoes and mix in palak puree. Also add green peas, salt, green chillies, ginger, garlic and all other ingredients. Mix the breadcrumbs very well for binding them.

Now heat good amount of oil in a deep frying pan and make small sized patties or kebabs from the mixture. Press each kebab between your palms to give a little flat shape.

Fry in hot oil over moderate flame, till turns nice and crispy golden brown.
Serve them piping hot with green chutney and tomato ketchup.
Chef Tips :
If you do not want deep fried kebabs, then you can either shallow fry them or bake them in oven with little oil, they will be still yummy to eat.
Do not add any synthetic green color in these kebabs, as they are natural green because of palak puree.
You can use cornflour, instead of breadcrumbs for binding the kebabs.
You can make the cutlets / kebabs from the mixture and store them for 2 days without frying.