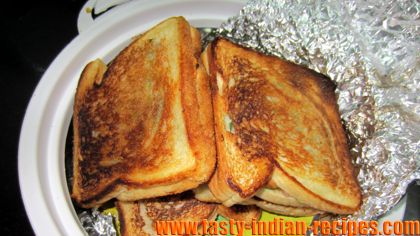 Masala Toast Sandwich is the special Mumbai sandwich dish, here boiled potatoes are cooked in the Indian masala and takes a great place between two bread slices. This masala stuffing is really very delicious, that's why it is one of the most demanding sandwiches in every street food stalls. Learn to make tasty and healthy home made masala toast sandwich.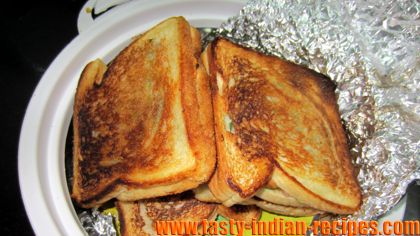 Preparation time: 15 minutes
Cooking time: 15-20 minutes
Servings: 4-5
Ingredients:
4 potatoes boiled and peeled
1 small onion chopped
2 tomatoes thinly chopped
8-10 bread slices (brown or white)
1 onion rings
1 tomato rings
2 tbsp butter
2 tbsp coriander chutney
4-5 green chillies chopped
4 cloves garlic minced
1/2 tsp mustard seeds
1/2 tsp cumin seeds
3-4 curry leaves
1/2 tsp red chilli powder
1/2 tsp turmeric powder
1 tsp coriander powder
1/2 tsp garam masala powder
1/4 tsp dry mango powder
Fresh coriander leaves chopped
Vegetable oil
Salt to taste
How to make Masala Toast Sandwich:
Heat the pan and add oil.
When the oil is hot enough then add curry leaves, cumin and mustard seeds.
Allow the seeds to splutter. Now add chopped onion and tomatoes.
Add salt and other spices. Mix well and cook for 2-3 minutes on low flame.
Add the mashed potatoes and chopped coriander.
Mix well, cook for one more minute and set aside.
Take the bread slices, apply little bit of butter and chutney on each bread slice.
Spread the cooked mixture of potatoes evenly on each bread slice, arrange few rings of onion and tomatoes.
Cover the sandwich with another bread slice on which butter and chutney is applied.
Toast or grill the sandwich in a toast maker until browned from both the sides.
Cut the sandwich's in the desired shape.
Serve with the chutney and tomato ketchup.
Chef Tips:
You can trim the edges of bread slices.
Do not over cook the sandwich's, or they will become too hard to eat.
You can use tawa or griddle for making these tasty masala toast sandwich's.
While serving you may apply little bit of butter on top of the sandwiches.