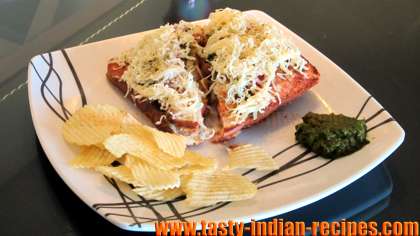 If you have ever been in Mumbai, you must have tasted a delicious Grilled Bombay Sandwich, that is available in every street of Bombay. A healthy sandwich is simply made with lots of salad ingredients and taste can be enhanced with the application of butter and green chutney. A best and all time hit serving sandwich is more delicious when to put tomato ketchup on it.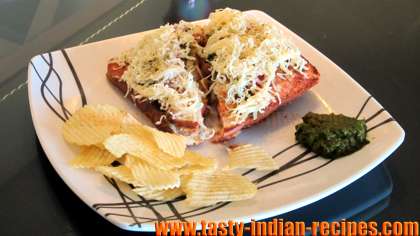 Prep time:
Cook time:
Total time:
Yield: 4 servings
Ingredients:
8 white bread slices
1 cucumber (peeled and sliced)
1 onion (peeled and sliced)
1 big tomato (sliced)
1 boiled beet root (peeled and sliced)
1 boiled potato (peeled and sliced)
4 tbsp homemade green chutney
4 tsp butter
2 green chillies
1/2 tsp red chilli powder
2 tbsp zero size sev
Chaat masala to taste
Salt to taste
Grated Cheese (optional)
How to make Bombay Sandwich with Green chutney:
Please carefully read the ingredients and method of making my green chutney recipe.
First of all, trim the edges of all bread slices and spread butter with lighter hand on all bread slices.
Also apply green chutney all over on 8 bread slices
Now take only 4 bread slices for making 4 sandwiches.
Arrange few slices of cucumber and sprinkle some chaat masala over it.
Arrange 1-2 slices of onion, beet root, potato and tomatoes.
Sprinkle chaat masala after arranging each and every vegetable on bread slices.
Finally just before covering the sandwich with another buttery bread slice, sprinkle some salt and chaat masala powder.
Place the other slice of bread with the buttered side facing downward.
Cut the sandwich into 4-6 pieces and sprinkle sev over it.
You can eat this sandwich as it is or toast or grill them in a griller or in a toast maker.
Make sure, sprinkle the sev just before serving only. Else the sandwich becomes soggy.
Sprinkle some grated cheese all over and Serve immediately to get a real taste of Bombay Sandwich.
While serving, either spread some ketchup on top of the sandwich or you can serve it with ketchup and green chutney.