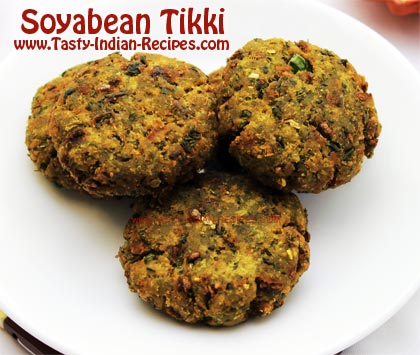 Soyabean Tikki are the healthy cutlets made with soya chunks and textured vegetable protein along with the potatoes and spices. These are the most delicious and healthy tikkis, which are great to serve as a snack dish with chutney or sauce.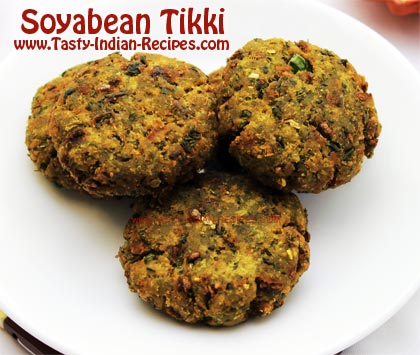 Preparation time: 5 minutes
Cooking time: 15 minutes
Servings: 8
Ingredients:
2 cups big soyabean chunks
1 cup small soyabean
4 medium size potatoes (boiled and peeled)
5-6 green chillies chopped
1 inch ginger chopped
4 cloves garlic minced
1/2 tsp red chilli powder
1/4 tsp turmeric powder
1/2 tsp coriander powder
1/4 tsp garam masala powder
1/2 tsp cumin powder
1/4 tsp chaat masala
Fresh cilantro chopped
Salt to taste
Oil to deep fry
How to make Soyabean Tikki:
Mash the boiled potatoes and keep aside.
Boil big and small soyabean, drain the water and allow to cool.
Mash the boiled soyabean in a big bowl.
Combine the mashed potatoes, salt, ginger-garlic, green chillies and all the spices along with the chopped cilantro.
Mix well, take little bit of oil in your palms and make small round or ovals shaped tikkis.
Heat sufficient oil in a pan.
Deep fry 2-3 tikkis at a time until turn into crispy golden brown in color.
Drain on oil absorbent paper and serve hot with coriander chutney or tomato sauce.
Chef Tips:
You may either shallow fry the tikkis or can roast them in the oven or you may also make them on the hot griddle with little amount of oil.
If the mixture is too soft and you are not able to make the round tikkis then use breadcrumbs to make good shaped tikkis.
Always make such type of tikkis on medium high flame and in medium hot oil, so that they will get cooked from inside and outside. If you are frying on extreme hot oil then they will be just fried from the outside and not from the inside.