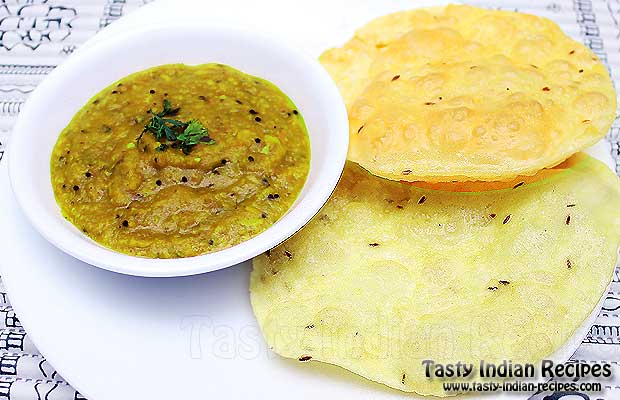 Dal Pakwan is the combination of cooked chana dal and thick roti of maida. This is the most delicious Sindhi breakfast served almost in every Sindhi family. Dal can be made in the combination of lentils, but here I'm using only chana dal to serve with pakwan.
Preparation time: 20 minutes
Cooking time: 25 minutes
Servings: 4
Ingredients:
For making Dal you need:
1 cup chana dal
Salt as per taste
1/2 tsp turmeric powder
1/2 tsp dry mango powder
2 green chillies thinly chopped
1/2 tsp red chilli powder
1/2 tsp cumin powder
1/2 tsp garam masala powder
1 tbsp tamarind chutney
1 tbsp butter
Fresh cilantro chopped
For making pakwan you need:
1-1/2 cups maida (all purpose flour)
Salt as per taste
1 tbsp pure ghee
Water
Oil for frying
How to make Dal Pakwan:
Clean and soak dal in normal water for 30 minutes.
Boil the soaked dal in 2-1/2 cups of water and add little bit of salt.
Pressure cook for 4-5 whistles until dal tenders.
When dal is fully done then adjust with little bit of water and keep on boil.
Add green chillies and all the spices along with tamarind chutney.
Mix well and stir for 2 minutes.
Garnish dal with fresh cilantro.
Melt the butter in a saucepan and pour over the dal and keep aside.
Combine the flour, salt and ghee.
Mix well and knead the dough by gradually adding little bit of water.
Knead to make a soft dough.
Divide the dough into small equal portions or balls.
Roll out each ball into thin puri.
Heat sufficient oil in a pan.
When the oil is hot enough, then put the rolled out puri in it.
Deep fry until turns into brown in color from both the sides.
Remove on oil absorbent paper.
Serve hot with dal.
Chef Tips:
If dal looks too dry then adjust it with water.
At the time of serving you may sprinkle tamarind chutney and chopped onion to make it more flavorful.
Fry only one pakwan at a time.
For making delicious Sindhi style breakfast dish you can make dal in the combination of chana dal, yellow moong dal and green moong dal.