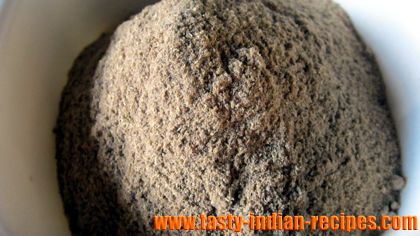 Dried mango powder is one of the most flavored powder masala which is being used in various recipes. Dry mango powder is very popular with the name Ambchur or Amchur. This aromatic masala powder is available at every grocery store and is marketed from several brand names.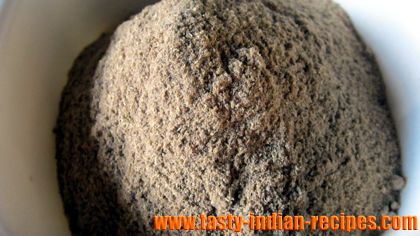 The Amchur can be easily made at home for that you just need to grind the dried mangoes. The procedure to dry the mangoes is also extremely easy for that you just need to select the fresh and unripe mangoes then peel and cut them into thin strips, rub them with little bit of salt and turmeric powder and finally keep under the sun exposure at least for 8-10 days. When the mangoes are fully dried then grind them to make a fine powder.
At the time of selecting dry mango powder some aspects should be taken care of  and one of the most important aspect is the name of brand which is marketing this powder. Secondly you must know the color and texture of amchur, which is always fibrous and beige or the light skinny in color. You should check whether the packet is properly sealed or not, also check the details of manufacturing and expiry dates.
USES:
Amchur is the best masala to sprinkle on some of the fruit desserts and raitas.
It can be used to flavor various kebabs, tandoori chicken, dry meat, fish, barbecue and grilled recipes.
Amchur is the best substitute of tamarind and lemon.
Use can add amchur to flavor dal, curries and South Indian sambar recipe.
Chutnies, soups and various starters can be turned into mouth watering recipes just by flavoring with amchur.
Amchur is a great option to make the pickles.
The taste and flavors of chicken, fish, meat, prawns, pork, etc can be enhanced with a pinch of amchur.
You can flavor paneer, biryani's, pulao, kachumber, salads and several dry and gravy vegetables with this amchur powder.
STORAGE:
Amchur powder should be stored in air tight container.
Take only dry spatula for using this powder as it should not get even a drop of water, otherwise it will get lumps so fast.
Amchur should be kept far away from the moisture and liquids.
Always keep it at a cool and dry place.
BENEFITS:
Amchur is the best source of Vitamin A, C and E.
It helps to keep the balance and smooth function of hormonal system in the body.
Amchur contents high amount of iron, that's why becomes a best source for the people who are suffering from anemia.
Amchur can be consumed when having the acidity or digestion problem.