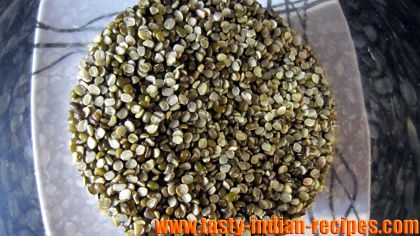 Green Moong dal is a green gram, which comes in whole, split and grounded one. It is highly used in Indian cooking. This particular gram consists a natural and mild aroma and flavor, which makes it easy in cooking. Its base is super soft, that's why it does not take much time during its cooking.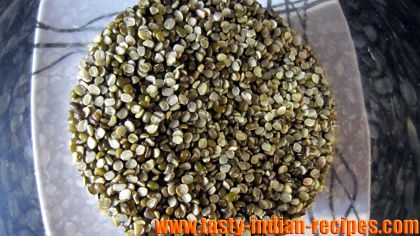 Green moong dal are tiny and cute rounds having the mustard color from inside. This dal is extremely easy in digesting, consist of sweet flavor and very soft texture. You can get it easily from any grocery store.
At the time of buying, carefully check that if dal having lots of pebbles or stones then simply avoid buying. But dal having nice green color and clean texture is worth to buy. In the market you may see the loose and packaged one moong dal. Loose dal can be clearly observed, but if you are going for a packaged one then always check the manufacturing and expiry dates.
USES:
Green moong dal is extremely delicious when is to be cooked with other Indian flavors and ingredients.
It is important to soak this dal before proceeding to make it soft and easy while cooking.
Soaked moong dal can be grounded into a fine paste and further used as per the requirement.
This dal can be easily pressure cook with the spices, ginger-garlic paste and chopped onion and tomatoes.
It is best dal to serve with steamed or jeera rice and yummy meal can be completed with any fried vegetable.
This dal makes a great combination when cooked with milk and banana, which is the special delicacy of Tamil Nadu.
The ground paste of green moong dal is used for making various dosas and uttapams.
Boiled green gram is highly used for making delicious parathas.
Boiled moong dal is to be mashed and mixed along with other healthy vegetables to make the delicious veggie fritters.
The combination of green moong dal and rice is used to make special Sindhi delicacy called as khichdi, which is healthy and tasty in eating.
STORAGE:
Split green gram should be stored at cool and dry place.
It must be kept away from the moist or wet areas.
To store it well for long time, you must place it in air tight container.
Do not use wet spoons or spatulas to keep it fresh for long time.
BENEFITS:
Split green gram is highly essential to provide proper protein, vitamins and dietary fibre in the body.
It is an extreme source of good digestive system.
Green gram is low in fat and highly inculcated with good amount of calcium, B complex and potassium.
This dal consist huge amount of nutritional value, which helps in promoting health of the people who are suffering from the bad health or remain sick and tired.
You can make delicious Sindhi style khichdi of this dal and rice, which considered as a best digestive food during the fevers and stomach problems.
You can also make a laxative soup from this dal, which is served to the patients in most of the hospitals.