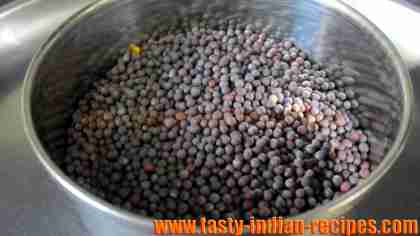 Mustard Seeds are famously known as rai or sarson. They are tiny and cute type of seeds, having the interesting aroma, bubbliness and exotic flavor. These seeds are highly used in Indian cooking. Mustard seeds are from the mustard plant, which is a cruciferous vegetable related to broccoli, Brussels sprouts and cabbage.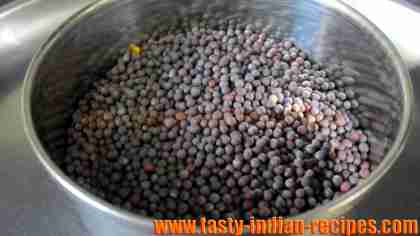 There are three types of mustard seeds, white, black and brown. All have different uses, taste and preservative qualities. Mustard seeds are easily available from retail shops to big mega marts. Generally the seeds comes in a well sealed packets, while buying check out the free-flowing and color of seeds. You may get them in whole, ground and powdered forms.
USES:
Mustard seeds are famously used for tempering or giving tadka in dal or lentil recipes, they add extra flavor and aroma in any type of dal.
The flavor of mustard seeds adds nice and mild aroma to any type curry recipe.
Toasted mustard seeds are used very well in maximum Indian dishes.
Never over toast the seeds, as they get burn and turns very bitter in taste.
Whole mustard seeds are used for making variety of Indian pickles.
Mustard seeds enhance the taste and flavor of meats, fish, sauces and salad dressings.
Black or brown mustard seeds can be tempered in little amount of oil and used for garnishing the salads and rice dishes.
In India, mustard seeds are generally used to complement potato, cabbage and green beans.
STORAGE:
Mustard seeds must be stored at cool and dry place.
They must be preserved in air tight containers or jars.
These seeds have a very good shelf life, you can store them at least for one year, if storing well.
The powdered mustard seeds can be stored for 4-6 months, provided they must be properly placed in sealed container.
BENEFITS:
Mustard plasters or poultices are medically proven best, as they have been applied to the chest to aid in clearing the sinuses and decongest the lungs.
Mustard seeds contains sulphur, that has been used as an effective treatment for skin diseases.
Mustard seeds helps in stimulating the appetite, also contains digestive, laxative, antiseptic, and circulate stimulant properties.
Mustard seeds neutralizes toxins and helps ward off an upset stomach.