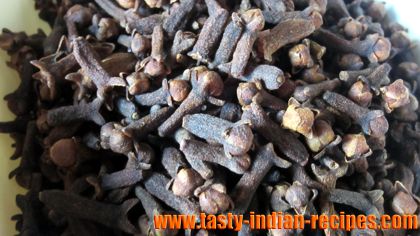 Cloves is derived from the Latin word 'nail 'means clavus. Cloves are normally 12-16 mm long just like nails with a tapered stem. Cloves is a flower bud of huge tropical tree. It is pink in color when is fresh and after dried it turns into rust brown color.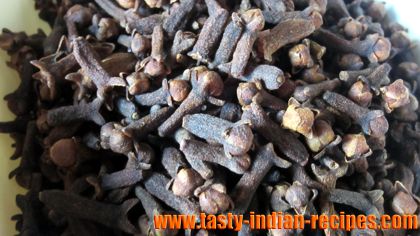 The flavor of cloves can be sweet and pungent, it has the strong aroma and astringent. Cloves can be used as whole, crushed or powdered one. At the time of buying, make sure that cloves must be compact in size, also they should be scars free and blemishes free.
You can get to know the freshness of cloves by smelling it. Cloves are easily available everywhere from small retail stores to big or mega marts and shops. Whole cloves are very much flavored and aromatic. It would be advisable to buy whole cloves, from which you can make the fresh ground powder at your home as when require.
USES:
Cloves can be roasted and then crushed to make a fine powder with the help of grinder and can be highly used for making various types of stews, soups and marinades.
Cloves is a basic part of whole garam masala, which is one of the most important reason to bring the flavor and aroma in several rice recipes, pulaos and biryanis.
You can flavor plain jeera and steamed rice with few tempering cloves.
A pinch of grounded powder of cloves is enough to over power any dish.
Whole cloves are to be saute in oil, ghee or butter and then used in various vegetables, paneer recipes, stocks and soups.
Cloves is the main reason of flavor of Worcestershire sauce.
Few cloves are greatly used for making the aromatic and fragrant garam masala powder, curry powder, pickling spices and lots more spices.
STORAGE:
Cloves should be bought whole, which are easy to store in air tight container.
The powder of cloves should be stored in air tight glass containers or bottles.
They should be kept at cool and dry place for long lasting.
Keep them away from the direct sun light.
Cloves can be stored for 8-10 months, if placed properly.
BENEFITS:
Cloves are beneficial for clearing up the skin disorders like acne, scars, sores and ulcers.
Chewing few cloves is known as aphrodisiac.
Cloves are good for restoring the appetite, specially for the people who are suffering from eating disorders.
Cloves consists the mild anesthetic actions and works as a powerful local antiseptic.
Cloves are the effective treatment of diarrhea, hernia, ringworm and indigestion.
Cloves can cure the fungal infections.
The Indian Ancient Traditional Ayurveda experts have been using cloves for treating the digestive and respiratory elements.
Cloves oil is greatly used for healing the toothache.
Few cloves can be put in boiling water and used for gargling purpose, as it is a great antibacterial mouthwash, which helps in relieving from the bad breath and a sore nosy and throat.