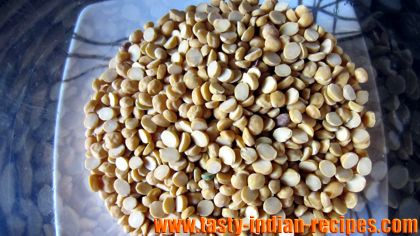 Chana dal is a split Bengal gram, the most popular legumes of India. Indian cooking is resisted with the huge use of chana dal in different ways. Chana dal is highly nutritious even when is roasted or powdered to make the besan i.e chickpea flour or Bengal gram flour.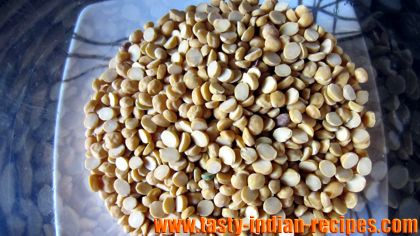 In India, almost every region has some special delicacies and recipes made with split Bengal gram. These are the tiny chickpeas which have been split and polished into a smooth firm. This particular legumes is available throughout the year. You can see dried chana dal in bulk quantity or in the branded packages.
It is very important that at the time of selecting chana dal you must ensure that it must be whole, blemishes free and away from the moisture and wet areas. Sometimes you may observe sticky chana dal in the grocery stores, specially in rainy season, it is advisable not to buy such type of lentils even though they may sell it in cheaper rates.
The sticky dal is damaged because of the moisture and it does not have any shelf life, so it is better to avoid buying such dal. If you are buying the packaged chana dal, then you must check the manufacturing and best before dates.
USES:
Chana dal is highly used for making variety of soups and salads, it's because the taste is just like the sweet corn kernels.
This dal is rich and extremely tasty after cooking and is best to serve with steamed or jeera rice along with any dry vegetable dish.
Chana dal is cooked with the combination of bitter gourd (turai, turi) and squashes to make delicious turai chana dal recipe.
It also goes with spinach to make delicious Sindhi delicacy known as Sai Bhaji.
Combination of Bengal gram and rice makes a wonderful khichdi, which is best to serve with yogurt.
Chanda dal is highly potential lentils in Indian cooking.
You can make lots of variation in your vegetables with handful chana dal to make them more flavorful and tasty.
Coarse chana dal is demanded for making several Gujarati dishes.
STORAGE:
Dried Bengal gram must be stored at cool and dry place.
The best place to store it is air tight container or jar.
If you are storing well at the room temperature in proper container, then it may long last for up to 8 months.
Cooked chana dal can be stored in the refrigerator for 2-3 days.
BENEFITS:
Chana dal is extremely delicious in taste, full of nutritious and can be digested easily.
Coarsely crushed chana dal increases the nutritional value, which is ultimately beneficial for the health.
Chana dal is low in fat and high in fiber and considered as polyunsaturated.
Bengal gram flour is an excellent source of calcium, proteins, folate and zinc in human body.
It helps in lowering cholesterol.
It is beneficial for the diabetics because of its unique properties and low glycemic index.
Recipes made from chana dal:
Toori Chana Dal Recipe
Chanda Dal Cabbage Recipe
Sai Bhaji Recipe
Teen Dal Recipe
Dal Pakwan Recipe
Chana Dal Recipe and many more.