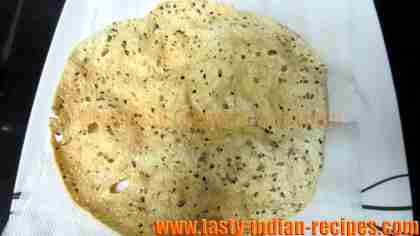 Papad is also known as Papadum. Papad is nothing but the thin Indian wafer, which can be refereed as a cracker or flat bread. Papad is generally made from dried lentils, it can be eaten fried or roasted. There are variety of papad flavors available in the market, that are made to suit the requirement of each and every individual.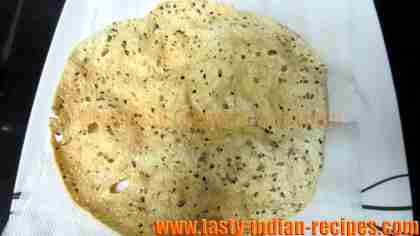 The basic composition of the papad varies from a number of ingredients such as cereal flour, pulse flour, soya flour, spice mixes, chemical mixes and different vegetable juices for improving both organoleptic and nutritional characteristics.
Before making any papad, its dough is required to make. That dough contains salt and peanut oil and some flavors to make the special regional papad. Baking soda is also one of the main ingredient for making good papad. The dough is shaped into a thin, round flat bread and then dried (traditionally in the sun). Papad can be cooked by deep-frying, roasting over an open flame, toasting or microwaving.
In India,  Papad has a vital place in every meal. It is highly served or accompanied either as a snack, chaat or with main course recipes. Papad is an example of the genius of Indian cuisine. Originally there are two types of Papad – North Indian papad and South Indian papad. They come into different sizes and textures such as mini papad, big papads, roasted papad, khakra and many more.
Papads of various brands are easily available in the market. One of the most famous market brand is Lijjat. You can get variety of tasty and flavorful Lijjat papads with different shapes and sizes. Always check that they are dry and not stuck with each other.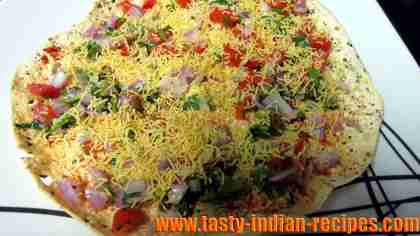 USES:
Papad is a great accompaniment with drinks and mocktails, one of the best example is masala papad.
Papads are typically served as an accompaniment with any meal in India.
Papad can be eaten as a starter or snack dish.
Fried, roasted, open-flame papad and oven-made papad are some of the best varieties of papad.
A famous Rajasthani delicacy is papad curry or papad ki sabji, that is made from the papad only.
Papad can be enjoyed with variety of pickles, chutneys and sauces.
You can get papad of several flavors of your choice, such as Punjabi masala, urad dal, moong dal, asafoetida, black Pepper, green chilly, red chilly, cumin, garlic, ginger, cardamom, cloves and cinnamon, etc.
Since the years, Papad has been used to serve with dal and rice, as it enhance the taste of the meal.
You can munch the Papad as a great snack dish.
Papad can be served with soup or with the main meal.
Papad is often crushed and sprinkled on the rice.
A traditional Indian thali, platter, marriage buffets, parties, etc always includes papad in their menu.
You can crush the raw papads for coating the kebabs and tikkis.
Papad is used for making several Gujarati subzis like Methi- Papad nu shaak, Ghatia- papad nu shaak, etc.
STORAGE:
Papad should be stored in air tight container.
It can be stored for 10-12 months.
Sometimes keep them under fresh air and sun light for few minutes for preserving even more better.
Although storage can be done, but it is advisable to buy limited stock or small packets of papad and use them as per your requirement.
BENEFITS:
Papad is a good appetizer and a source for digestive.
Roasted or grilled papad helps to absorb the fatty material from the mouth and throat.
Papad should be eaten in moderate proportion, else it can become the reason of acidity.
Papad is very high in sodium, hence not advisable for hypertensive people.
Papads are made of lentils, hence are free from gluten, rich in protein and dietary fiber.