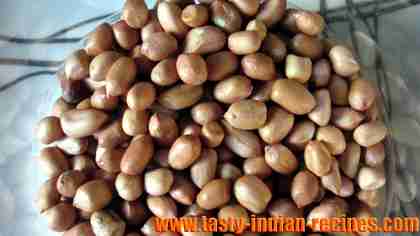 Peanuts are also known as groundnut, moongfali, sing, singhdana and moonphali. Although peanuts are not the true
kind of nuts but they come from a family of legumes, that is related to lentils, chickpeas and other beans. Peanuts has lot of weight, hence it grows as a ground flower and matures under ground only.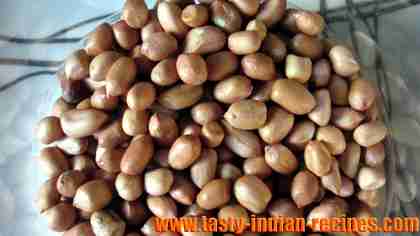 A shell of peanut contains 2-3 kernels and each oval shaped kernel is of white lobes and cover with the brownish red skin. Peanuts can be chopped, crushed, boiled, toasted and roasted as per the recipe requirement. They are highly consumed with cocktails as a complimentary dish.
Peanuts contains high amount of protein and chemical profile, hence they are processed to a variety of forums, such as butter, oil, flakes and flour. In the market, you can get shelled and un-shelled peanuts. They are easily available in packets and in bulk containers.
While buying from the bulk bins, it is very important to check that peanuts are covered properly and they are fresh enough without having any evidence of moisture. Also they must be free from insect damage. If buying the packed peanuts, then carefully check the 'use by' date. While purchasing peanuts, make sure that the size of kernel is slightly big and they have fully dried out. Peanut shells must be free from dark spots and cracks.
USES:
Peanuts can be used as raw, toasted or steamed.
Peanut butter jelly sandwich is a big example of peanuts.
Peanut oil is also used for various culinary uses.
Make the combinations of your choice by mixing peanuts with butter, banana, honey, milk and fruits.
Various salad recipes are garnished with a dash of peanuts.
Peanuts can be used for making variety of sweets, candies, chocolates, muffins and so on.
Peanut butter is a mouth-melting spreads on several types of breads, toasts, crackers, waffles, etc.
A famous chocolate bar, named as snicker is made from the peanuts.
Peanut butter is highly used for dressing the salads.
Boiled peanuts are best to serve with cocktails and mocktails.
You can add handful of peanuts in various vegetarian and non-veg recipes to make them more tasty.
Crushed peanuts is a basic requirement for making sabhudana (sago) khichdi recipe.
They provide sufficient amount of energy during fasting and highly used for making special fasting recipes, such as sago khichdi, sago cutlets, boiled potato cutlets, farsan  and many more.
Peanut is a main ingredient for making coriander and mint chutnies.
Crushed peanuts can be used to thicken the curry recipes and soups, etc.
STORAGE:
Peanuts must be stored at cool and dry place, as they should not be close to moisture and wet areas.
The shelled kernels must be stored in air tight container.
Peanuts can be refrigerated for 2-3 months, if stored in sealed container/jar.
You can also freeze them for 6 months or even more.
BENEFITS:
Peanuts is a high protein and healthy food, especially for the slim people, it contains good amount of nutritional values.
Peanuts are a very good source of protein and mono saturated fats, it is considered as a type of fat that is given weight for healthy heart diet.
Peanuts contains high level of poly phenols, that have strong antioxidant properties.
Even a handful of peanuts can help the malnourished and underweight people.
You can chew peanuts with a pinch of salt to strengthen the gums.
Peanuts have a good amount of proteins and other properties, hence are good to provide the energy to the body during the fasting.