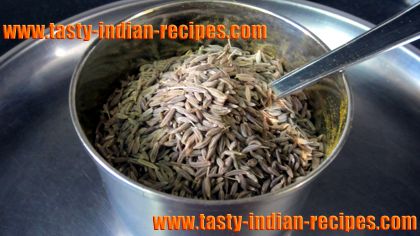 Cumin seeds are also known as jeera, zeera, seeragam or comino. Cumin are oblong shaped, pale or usually dark brown seeds in color. Indian recipes are greatly flavored with these cumin seeds. These seeds are belong to the parsley that is dill family and quite similar to the caraway seeds, but the flavor is different.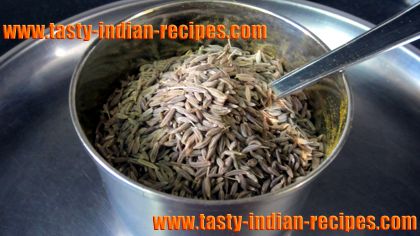 These are the common and most popular seeds or a form of spice having the distinctive and strong aroma. Cumin seeds is the form of aromatic spice with the bitter taste and very warm flavor. Cumin seeds can be used as whole, crushed or grounded one.
Cumin is the traditional type of seed which is very popular in many countries along with India. Cumin seeds can be fried or roasted before using in the recipes. Whole cumin seeds are available everywhere in the market, you can get them from small to big or mega super marts.
At the time of selecting, always go for the one which are fresh in flavor and dark brown in color. Also check whether the seeds are properly packaged and kept in dry conditions, these seeds should be whole and not broken. It is advisable to buy whole cumin seeds, it's because the grounded cumin seeds loose their aroma very quickly.
You can roast the cumin seeds in non-stick pan until become aromatic then cool them completely and then grind to make a smooth and fragrant cumin powder. You can use blender or mortar pestle for getting the fresh and smooth powder form of cumin seeds.
USES:
Whole cumin seeds are mostly used for tempering the various dals and jeera rice.
Cumin seeds are widely used for different preparations of gravies and curry recipes.
Salads and various vegetarian recipes can be flavored with the tempering cumin seeds.
They are mostly used for making butter milk (chas), lassi, soups and stews.
Whole cumin seeds are great to use along with the whole garam masala for bringing the natural flavor in veg and non-veg dishes.
Cumin seeds are highly used as whole, fried, toasted, roasted or powdered.
You can make delicious jeera rice by tempering few cumin seeds in the butter.
Dal fry, Dal Tadka, Sindhi style Makhani dal are firmed with the warm flavor of fresh cumin seeds.
Cumin seeds along with other flavorful seeds are mostly used for making various Bengali dishes.
Famous Tandoori dishes of North India are highly tempered with cumin seeds.
Indian cumin seeds are not limited to the kitchen only, but they are widely used in beverages, medicines, liquors, toiletries, perfumes and many more.
Indian Fish, meat, prawns, chicken and vegetarian dishes are commonly flavored with cumin seeds.
The fresh ground cumin seeds can be used in buttermilk to enhance the flavor.
The combination of cumin and caraway works as a great flavor of the German liquor.
Cumin is used for making Leyded cheese of Dutch and the famous traditional breads of France.
Cumin seeds are used at a greater extent for making various fish recipes, tandoori items, grills, stews and many more.
STORAGE:
Cumin seeds should be stored in air tight containers.
The powder of cumin seeds must be kept in tight and sealed glass containers or bottles.
They should be kept at cool and dry place.
If you are keeping them well at the suggested place and containers, then you will be able to store whole cumin seeds for about 10-12 months and the powdered one can remain fresh for about 4-6 months.
BENEFITS:
Crushed cumin seeds can be used for making medu vada's.
A little bit of powder of cumin seeds works best as an aid for digestion, when is to be added in butter milk (chas).
Cumin helps in stimulating the appetite.
Cumin helps in reducing nausea and increasing lactation at the time of pregnancy.
Cumin paste is greatly used for treating the boils.
Cumin seeds works best for boosting the liver's ability to detoxify the body.
Cumin seeds have the antiseptic properties, which helps in getting relieve from the cold and cough.
Cumin increase the heat temperature in the body which makes the metabolism more efficient.
Cumin works best for the acidity.
Cumin helps in relieving nausea and the problems like diarrhea and morning sickness.