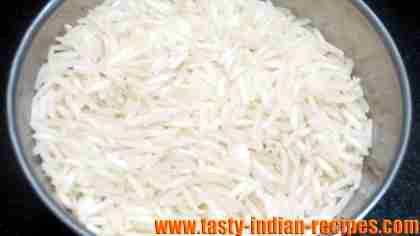 Basmati Rice are commonly known as long grained rice. Basmati rice are nicely perfumed with a flavorful fragrance. These rice are aromatic, slender rice and long grained along with the nice fragrant and a nutty flavor. The meaning of word "basmati" in hindi means "queen of fragrance". They are treated as the best rice of the world.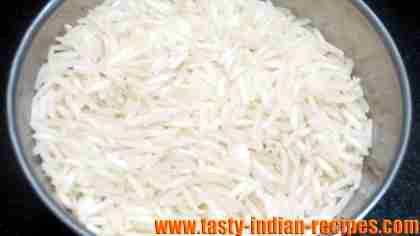 Indian has huge market for basmati rice, they are highly demanded not only in Indian but in foreign countries as well. Indian homes and kitchens have been using basmati rice since the years and they have been exported all around in the world. Indian basmati rice are considered the premium one and its color is creamy white and translucent.
Although brown basmati rice are also available in the market, but white one are commonly used and known. Each and every grain of basmati rice is long about 1.50 mm to 2 mm. They are dry, firm and separate grains in nature. The true aroma of basmati rice comes, only when they are properly intense to reduce their moisture content.
Authentic Basmati rice are sourced from northern India at the foothills of the Himalayas and the whilst Basmati rice are sourced from India and Pakistan. Although there are variety of basmati rice available now a days and it becomes difficult to identify the original basmati rice. In the grain market, you can see a lot of brands and packaging are available and the merchants consider all of them as a basmati, but it is not true. All of them are not true basmati rice.
The rice contains elegant fragrance, long grained and most importantly its aroma are some features to be seen while buying basmati rice. At the time of cooking the texture of these rice is firm and tender without splitting, they are non-sticky in nature and they enhances almost double at the time of cooking.
Basmati rice are easily available prepackaged and in bulk containers. If you are purchasing the packed basmati rice  then carefully check their manufacturing and expiry dates and if you are purchasing from the bulk section, then make sure that the bins containing the rice are covered properly and the store has a good selling reputation and product turnover to ensure the maximum freshness. While buying any of basmati rice, always make sure that there is no evidence of moisture at all and the kernels are not broken, scratched, or damaged.
USES:
Basmati rice are highly used for making variety of rice recipes, such as steamed, biryani's, pulaos, etc.
They are perfect to bring the flavour, texture and the complements when served with different types of curries.
They are mostly used for making variety of Indian & Middle Eastern delicacies.
Even the par-boiled or fully boiled rice are great to serve with dal and gravy dishes.
Delicious regional desserts such as Kheer, Sweet Saffron Rice and Phirni are easily made from basmati rice.
Yummy rice pudding is just impossible without these basmati rice.
You may use leftover boiled or cooked rice for making several cold rice salads, kheer and tawa pulao, etc.
You may add your favorite veggies, tofu, mushrooms or even chicken or eggs to make delicious rice dishes.
Nice rice parathas can be made from boiled rice, just mix them with the flour and cook like normal paratha.
Rajma chawal is the most famous Punjabi delicacy, only possible with the basmati rice.
Simple yet elegant lunch and dinner main course dishes can be made by using good quality basmati rice.
Steamed, boiled and baked basmati rice can become excellent preparation for making variety of parathas, kheer, salads and entrees.
STORAGE:
Basmati rice must be stored at cool and dry place.
The best place to preserve them for several months is air tight container or jar and a proper room temperature.
If you have opened a package of rice then transfer them into a clean jar and keep at a cool and dark place.
Basmati rice must be protected from moisture and insect infestation.
Basmati rice have a good shelf life, only when stored and used properly.
BENEFITS:
Basmati rice is an excellent source of Vitamin A, B and D.
It is a good energy source, as it contains complex carbohydrates, which is an important source of the fuel for the sound body and sound brain.
These rice are a very good source of vitamins and minerals such as thiamine, niacin, iron, riboflavin, vitamin D and calcium.
Rice does not contain any fat and cholesterol.
They are sodium free and an excellent food for balanced diet.
Rice do not contain any additives or preservatives, hence are good and healthy for balanced diet.
Rice contains resistant starch and that encourages the growth of beneficial bacteria by keeping the bowel healthy.
Rice is a low-sodium food for the people who are suffering from hypertension.
It is a good source of protein which contains all types of amino acids.
Rice are proven very effective in treating diarrhoea in children.
Rice are low in fiber, hence extremely soothing to the digestive system.
Rice are non-allergenic and considered as an effective grain for the people with digestive problems.