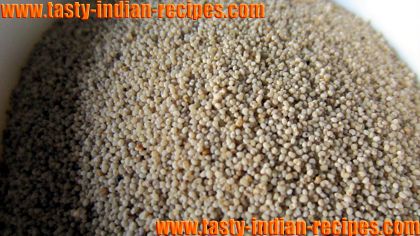 Poppy seeds is the form of dried seed from Papaver somniferum, it is also known as khus-khus or kashash. Poppy seeds can be used whole or ground in Indian cooking. Poppy seeds are very numerous, tiny, white grey color seeds having the oily touch. The seeds consists nutty aroma and taste.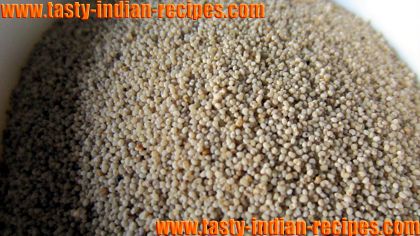 While selecting the poppy seeds you must know that they are ivory to beige in color. The seeds are cute and tiny and great in appearance.
USES:
The ground poppy seeds paste is mainly used to enhance the flavor of the recipes.
These seeds can be used as a condiment, spice, a thickener or as a decorative garnishing ingredient.
Baked food, main course dishes and several desserts gets the awesome flavor and aroma of poppy seeds.
The seeds are best source of making poppy seed oil.
Whole poppy seeds are commonly used to decorate many veg and non-veg recipes.
Cakes, muffins, cookies, buns, bread pastries, etc are topped with black and white poppy seeds.
Poppy seeds can be soaked in warm water or milk and then are to be grounded and used to thicken the gravies, curries and bhuna recipes.
The toasted poppy seeds are to be used to garnish rolls and breads.
The seeds are so rich in nature that they give a fabulous look to the vegetables and salad dressings.
The nutty flavor of poppy seeds gives fantastic texture to the cakes, sweets, confectionery, crusts, pancakes, waffles and many more bakery food items.
STORAGE:
Poppy seeds needs a cool and dry place.
They should be stored in the containers with the tight lid.
It is better to keep them away from the direct moisture contact.
BENEFITS:
Poppy seeds are the great source to relieve from the pain and soothes muscular and neuralgic pains.
They are effective cure of thirst, fevers, irritation of stomach and inflammation.
Milk which can be developed from poppy seeds is called as Opium, which is great to cure insomnia when is to be consumed with honey.
Opium is an effective treatment in spams of bowels and irritation of the bladder which is caused by the stone.
The mixture of grounded paste of poppy seeds and fresh lime juice is beneficial to cure the dry, inflamed and itchy areas.
Poppy seeds is the great recommendation of carbohydrates and calcium, which becomes the ultimate source of energy in the body.
Poppy seeds contains the high amount of minerals such as copper, potassium, manganese, zinc and iron, which are helpful for the growth and development of the body.
Also the rich amount of minerals helps in controlling the heart rate and blood pressure.
The seeds are excellent source of B-complex and Vitamins such as riboflavin, niacin, thiamin, pantothenic acid and folic acid.