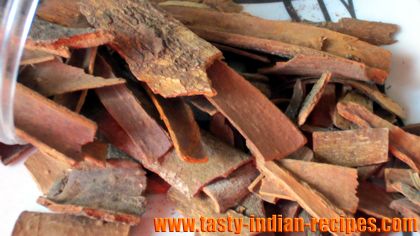 Cinnamon is a sweet stick which is famous with various names such as dalchini, darchini and dhaal cheeney. Cinnamon are thin, pale brown to tan bar strips. It is the inner part of a big tropical tree, which stay evergreen. Cinnamon sticks are actually comes in quills or strips which are rolled one in another. The one which is pale and parchment-like in appearance is known as the best cinnamon.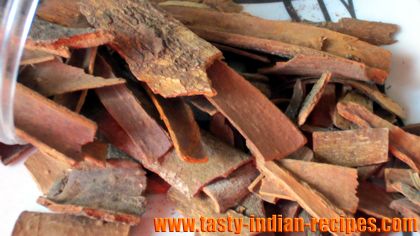 Availability of cinnamon can be whole or grounded one. Cinnamon powder is prepared by roasting the whole cinnamon, cool and then grind to a fine powder. In the market cinnamon is easily available as a whole or ground one. This is widely used in Indian recipes and is relatively inexpensive.
It is advisable to buy whole cinnamon, as it is more aromatic and flavorsome. You can make the powder of whole cinnamon as and when required. It is important to check that it must be compact and blemishes free. You will be able to notice the fresh and kept sticks of cinnamon while smelling and by observing its color.
You can buy it loose or the packaged one. Cinnamon of various brands and names is available almost at every grocery store. If you are going for the packaged cinnamon, then carefully check its manufacturing and expiry dates.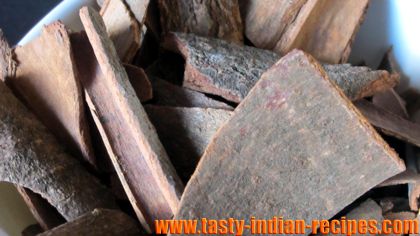 USES:
Whole cinnamon bits are to be used for flavoring several curry and gravy dishes.
Cinnamon powder is greatly used for different types of marinades, soups and stews.
It can be used for making cinnamon cakes, cinnamon babka and cinnamon pies.
Because of its strong aroma and flavor, cinnamon is mostly used in dessert dishes.
Cinnamon can be used for making different types of bakery products like breads, cakes and muffins.
Cinnamon can be used for making milk and rice puddings.
Cinnamon is heavily used to making various chocolate dishes, vegetables and fruit desserts.
It becomes more flavorsome when is to be mixed with whole garam masala and then used for making variety of pulaos  and biryani's.
Indian vegetarian and non-veg food is greatly flavored with the aromatic cinnamon.
Cinnamon is added in tea and brewed in Mexico.
Wines, syrups and creams are flavored with the cinnamon.
STORAGE:
Cinnamon must be kept in whole barks, as they stay fresh for long time.
Cinnamon sticks should be stored in air tight containers for long lasting.
The freshly grounded cinnamon powder should be kept in air tight glass bottles and must be finish as early as possible, as it may loose its flavor.
It is advisable to grind a small amount of cinnamon and store very carefully.
Cinnamon should be kept away from the direct and strong sun light.
BENEFITS:
Cinnamon can be a great treatment for nausea and flatulence.
Some Medical Studies have considered that the consumption of 1-1/2 tsp of cinnamon on every day basis can reduce the blood sugar, cholesterol, and triglyceride levels by 20% in Type II diabetes patients.
Cinnamon is a herb consisting the essential oil which is potent antibacterial, anti-fungal, and uterine stimulant.