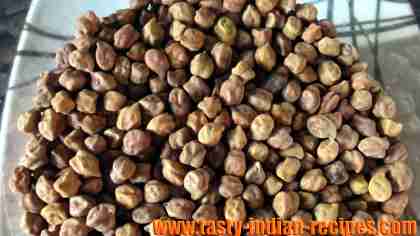 Kala Chana are commonly known as chickpea, garbanzo bean, ceci bean, chana, sanagalu and Bengal gram. This tasty legume is from the Fabaceae and subfamily Faboidea. Kala chana are used in several different types, they can be boiled, soaked, sprouted and cooked in the spices.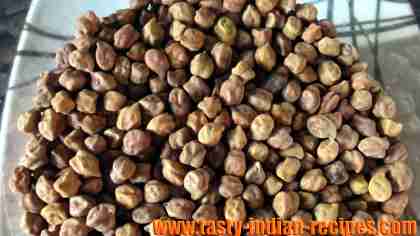 It is very important to wash and clean them thoroughly in sufficient amount of water and remove out the stones and dirt. Soak the kala chana for few hours or may be for overnight before cooking further.
While selecting kala chana always sort through dried dal, also check out the manufacturing and expiry dates, take care of properly packaging and always remove the stones and debris before cooking.
USES:
You can boil them in a good amount of water by adding little bit of salt.
You can make several delightful dishes from kala chana by just steaming with unsalted butter and then spice up with boiled veggies and sauce of your choice.
Cooked kala chana can be used in salad dressings.
You can make delicious chana masala just by adding thinly chopped onion, tomato, lime juice and spices.
You can make sprouted kala chana, for that you just need to soak black chickpeas in plenty of water for overnight. In the next morning they will expand considerably,  then place them in a big vessel. Now pass them through the strainer, spread the cheesecloth, pour away the water and gather soaked black chickpeas. Later bring the edges together and tie a knot. Hang the cloth in a windowsill and allow to sprout. Probably it will take a day or two. Sprinkle little bit of water in between and do not let them dry, hang again or use a sprayer to keep the cloth moist. Your home-made healthy sprouts are ready to make a great snack dish or you can use them for making yummy curries, kurmas and stews. Sprouted kala chana are highly used for making delicious chaats like pani puri, bhel puri, ragda pettice and so on.
Kala chana are intensely used for salad purpose. People generally use the boiled kala chana by mixing with thinly chopped onion, tomato, coriander and green chillies, flavored with lime juice and serve as a great side dish or complimentary dish with drinks.
You can use them with saute garlic and butter, a touch of mayonnaise and slightly cooked vegetables for making a healthy and tasty salad recipe.
Delicious and famous chaat known as chana masala can be easily made with boiled chickpeas.
It is a great addition to the Pani Puri.
Kala chana are used for making several regional foods, curries and chaats.
Soaked and boiled kala chana can be eaten as it is just by adding salt and pepper powder.
Sprouted kala chana can be used either for making salads or for making delicious curry recipe.
Kala chana can be cooked in the combination of various vegetables and used as a wonderful side dish with roti or naan.
STORAGE:
Kala chana should be stored only at cool and dry place.
They must be preserved in air tight container at room temperature.
Boiled and cooked kala chana can be stored in the refrigerator for 4-5 days.
You can freeze them for 3-4 months, but for that you need to store them in well-sterlized air tight container.
These beans are best used within one year.
BENEFITS:
Kala chana are a form of conventional chick peas and this lentils is very nutritious for the health and body.
It is advisable to cook them either in the breakfast or at the time of lunch, so that it gets digested properly, as they are heavy while eating.
The seeds of kala chana are high in protein.