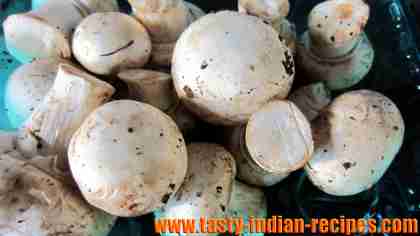 Mushrooms are also known as agaricus or button mushrooms. Mushrooms differs from size and color, they are from white to light brown color and from small to big/jumbo size button mushrooms. Generally it is a plumpy and dome-shaped food with a pleasing flavor, that intensifies when cooked.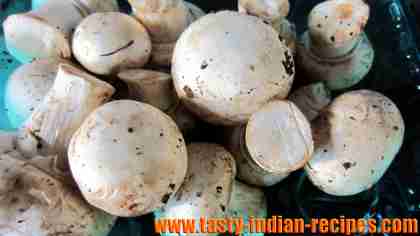 Mushrooms that are enough mature with the open veils are quite famous and tasty in eating. It is a versatile veg, that is being available everywhere. It is available as the dried and the canned one. Mushrooms can be blanched, sliced, diced, chopped or even you can make its fine rings. It really depends upon the recipe requirement.
While selecting the best quality mushrooms, always check its color and freshness. The selected mushrooms must be intact and firm, they must be tightly closed in a cane or container. Never buy the mushrooms that are having spots and wrinkles or slimy and ragged. Check out the 'use before' date carefully and avoid buying the one which are discolored, broken and damaged.
USES:
Mushrooms are extremely famous for making delicious mushroom masala and shahi mushroom recipes.
It is very important to clean them thoroughly in the water before using, preferably in warm water.
Boiled and sliced mushrooms can be used for making various types of salads.
Mushrooms are used for making several types of veg and non-veg pulao and biryani recipes.
You can marinate the mushrooms in yogurt, lime juice and spices for 2 days.
Garlic mushrooms is a mouth-watering snack dish, that can be made in few minutes and served with drinks and mocktails.
The preparation of any mushroom recipe takes no longer time and cooks in just few minutes.
Various types of soups, stews, stocks, sauces and dips are highly flavored with mushrooms.
Mushrooms can be made in the combination of other veggies, such as green peas, tofu, pulses and beans.
STORAGE:
Always buy fresh mushrooms as per your requirement, it's because they can not be stored for long time.
Generally button mushrooms should be used within 3-4 days.
Always store the dried mushrooms in air tight container.
BENEFITS:
Button Mushrooms are good and potential to fight against cancer. It contains a compound called lentinan, which is being used as a cancer treatment.
Button Mushrooms contains a good amount of amino acid and that fulfills the quota of  protein in human body.
Button Mushrooms are an excellent source of riboflavin and niacin and do not contain any fat or cholesterol.
Button Mushrooms are low in calories, low in fat, low in salt and have no cholesterol.
Mushrooms are a very good source of minerals, such as potassium and various vitamins in human body.