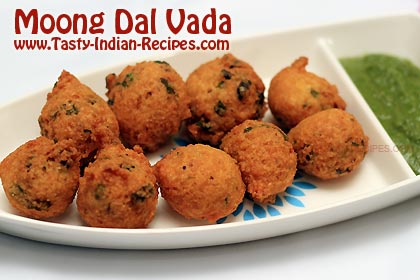 Moong Dal Vada is the smooth blend of soaked yellow moong dal, onion and spices. This is the most easiest snack dish, which can be enjoyed on daily basis, specially in monsoon. Try these vada in your own kitchen and enjoy them with a cup of evening tea.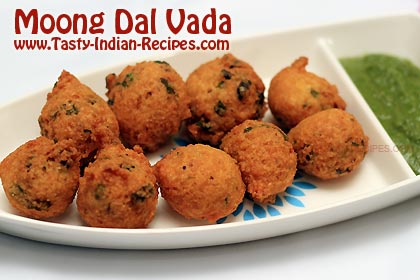 Prep time:
Cook time:
Total time:
Yield: 4 servings
Ingredients:
2 cups yellow moong dal
1/2 tsp roasted cumin powder
1/2 inch ginger piece
2 green chillies, seeded
1 small onion, finely chopped
1 tbsp Bengal gram flour (besan)
1/2 tsp red chilli powder
A pinch of black pepper powder
Salt to taste
Oil to deep fry
Fresh coriander leaves thinly chopped
How to make Moong Dal Vada:
Rinse moong dal in running water and soak in 4 cups of water for about 3-4 hours.
Drain the water and put dal in a blender.
Blend into a smooth paste by gradually adding little water.
Add thinly chopped onion into dal paste and mix well.
Crush the green chillies and ginger with the help of  mortar and pestle and mix in dal mixture.
Mix with the paste of dal and stir with salt, cumin powder, red chilli powder and black pepper powder.
Mix very well and add chopped coriander. Mix one more time.
Heat sufficient oil, make small balls from the batter and deep fry few balls in hot oil until golden brown.
Serve hot with coriander chutney and tomato sauce.
Chef Tips:
You may blend dal, onion and green chillies altogether to make a smooth paste.
If you like spicy food then use more of green chillies instead of red chilli powder, it's because sometimes red chilli powder leave its raw flavor in vada.
These vada can be made with green moong dal as well.