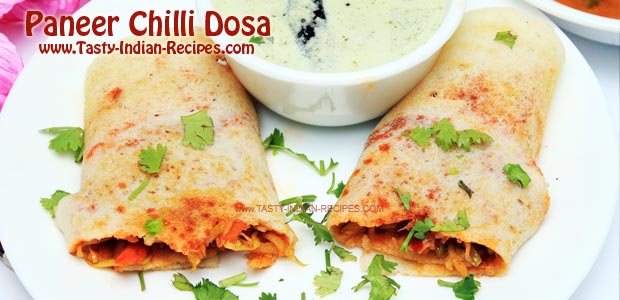 Paneer Chilli Dosa is one of the best Chinese Snack Dish made in South Indian style. This dosa is the unique way of stuffing the paneer along with Indian and Chinese veggies inside the dosa and served with coconut chutney and sambhar. Try Paneer chilli dosa in your kitchen and I'm sure it will be definitely on the top in your South Indian style recipes / food profile.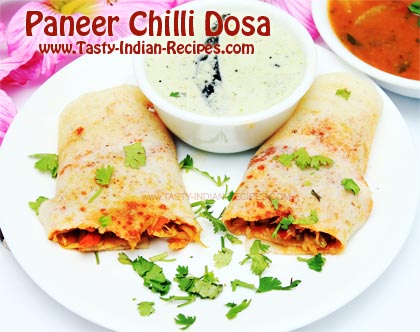 Preparation time: 10 minutes
Cooking time: 20 minutes
Servings: 6-8 dosa's
Ingredients required for making Paneer Chilli Dosa Recipe:
1 big bowl dosa batter (about 300 gms)
100 gms paneer chopped in small pieces
1/2 cup onion chopped
2 tomatoes finely chopped (remove pulp)
1 capsicum cut into thin slices
1 cup cabbage shredded
6 green chillies cut into thin slices
1 cup tomato sauce
4 tbsp soy sauce
1 tbsp red chilli powder
2 tbsp garam masala powder
1 cup green spring onions chopped
Fresh coriander leaves chopped
6-8 cheese cubes
1 cup unsalted butter
1 cup vegetable oil
Salt to taste
How to make Paneer Chilli Dosa Recipe:
Heat a griddle/non-stick/normal tawa.
Sprinkle little bit of water and wipe it off with the kitchen cloth.
Use a big spatula for pouring the batter on the tava.
Pour about 2 tbsp of dosa batter on the heating tava and spread to make a thin dosa.
Place 1 tsp of butter on the center and immediately add 1 tsp onion, 1 tsp cabbage, 1 tsp tomato, few slices of capsicum and green chillies.
Now add 1/2 tsp of soy sauce, little bit of chilli powder and 1/4 tsp garam masala powder.
Mash all the ingredients well with the help of pav bhaji or potato masher.
At this moment you may add 1/2 tsp tomato sauce, few pieces of paneer, sprinkle salt as per the taste and mix 1 tsp green spring onion.
Mix well and spread little bit of oil from the edges of dosa.
Top with little bit of butter again and sprinkle few chopped leaves of coriander.
Grate a cube of cheese over all and cook for 1 more minute.
Fold it and place on a plate. Serve on the spot with coconut chutney and sambar.
Follow the same procedure to make other dosa's as well.
Chef Tips:
If you are using non-stick tawa then you don't need to clean the tawa with the water before making dosa. The normal tawa requires drops of water to clean before going ahead, otherwise dosa stuck on it.
Try to take small portion of the batter and make small dosa's, as they look attractive while serving.
For making jain paneer chilli dosa you just need to remove onion, also you try adding slices of carrot. Trust me the taste will be amazing.