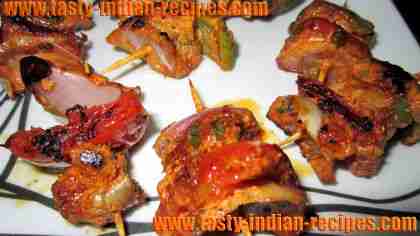 Tandoori Mushroom Tikka Kebab is extremely delicious kebab recipe made with button mushrooms, veggies and then combined in special curd marination. It is an authentic tandoori style kebab preparation which has the soft touch of Indian spices and tandoori masala. It is a great delicious dish to serve if you are arranging a barbeque party. Learn to make soft and juicy chunks of mushroom marinated in the unique preparation and then grilled with the veggies.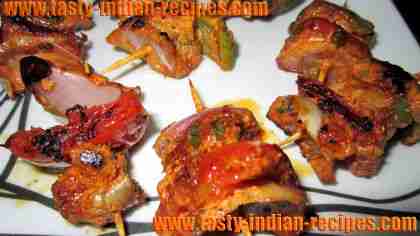 Preparation time: 10 minutes
Cooking time: 8-10 minutes
Servings: 4
Ingredients:
200 gms button mushrooms
1 big onion cut into tiny chunks
2 tomatoes coarsely chopped (remove pulp)
2 small capsicums cut into chunks
2 cups thick curd
2 tbsp ginger-garlic paste
6 green chillies paste
2 tbsp tandoori masala
1/2 tsp red chilli powder
1/2 tsp fresh lemon juice
2 tbsp olive oil
Fresh cilantro chopped
Salt to taste
A bunch of toothpicks
 How to make Tandoori Mushroom Tikka Kebab:
Wash and clean the mushrooms thoroughly in normal running water.
Chop the mushrooms in 1/2 pieces.
In a big bowl combine all the ingredients. Mix well.
Now add the chopped mushrooms and all other veggies.
Mix very well, coat all the veggies thoroughly in the curd mixture and keep in the refrigerator for 20-30 minutes.
Take a bunch of tooth picks and arrange the marinated veggies in each toothpick.
Arrange in this order, first insert the onion then a piece of tomato then mushroom and finally a piece of capsicum.
In the same way fill all the toothpicks and arrange on any normal greasy plate.
Heat a non-stick tawa and spread little bit of oil.
Tilt the tawa to spread the oil evenly.
Place the toothpicks at a proper distance.
Make sure keep at least that much distance which is necessary for you to flip them.
Cook for 2 minutes on very low flame.
You will observe the veggies are slowly turning into nice golden brown color.
Flip and cook from all the sides.
Sprinkle oil if require.
Serve hot with chutney and salad.
Chef Tips:
You can make these tikka's in the oven as well.
You may use normal vegetable oil instead of olive oil.
Use a non-stick pan or tawa, you will require less oil to pour.
Here tandoori masala plays a very important role, that's why it is the prime ingredient.
Try to use fresh mushrooms or if they are not just bought, then wash and clean them in lukewarm water or you may need to boil them.
Place few tikka's on the tawa and keep a good distance. Its because you need to flip them many times until cooked.