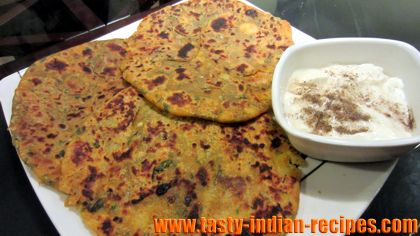 Palak Paneer Paratha is a traditional North Indian Breakfast dish made with spinach, cottage cheese, butter and other nutritional ingredients. This particular paratha is full of iron, calcium and vitamins. The sizzling hot shallow fried paratha is to be served directly from the griddle to the dinning table to enjoy delicious typical Punjabi paratha.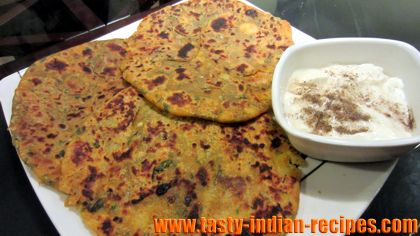 Preparation time: 15 minutes
Cooking time: 5 minutes
Servings: 6-7 paratha's
Ingredients:
For making Paratha dough you need:
2 cups wheat flour
1 cup curd
1 cup fresh spinach chopped
1 tbsp ghee
Salt to taste
Water to knead
For the stuffing you need:
1 cup crumbled or grated paneer (cottage cheese)
6-8 green chillies finely chopped
1/2 tsp red chilli powder
1/4 tsp dry mango powder
1/2 tsp garam masala powder
2 cubes cheese or 1 tbsp processed cheese
1 small onion finely chopped
Salt to taste
Butter for basting
How to make Palak Paneer Paratha:
Boil the spinach in its own water for about 6 minutes and then squeeze out whole water from the spinach.
 Keep the spinach aside for few minutes. Also do not throw the water.
Till that Combine all the ingredients of stuffing in a bowl, except the butter.
If you are using cheese cubes then grate them and mix in the mixture of stuffing.
Now mix all the ingredients of making dough, use spinach water and make a soft dough for making paratha.
Divide the dough into equal parts, take one portion and roll with the rolling pin.
Make a medium size round and fill the mixture of paneer in the center. Cover it with the help of oil or water.
Roll very gently and make a small cute paratha.
Place on a non-stick hot griddle or tawa on medium high heat.
Spread little bit of butter on both the sides and fry until you see the brown spots i.e the symbol of cooking paratha.
Serve hot with the curd or roasted papad.
Chef Tips:
Do not add water in the spinach while boiling, leave it to boil in its own water and knead the dough with the help of spinach water only. This is the source of vitamins and iron, so please do not throw the water.
The mixture of paneer and cheese gets melt and soft very fast, so try to make the paratha on the spot after making the filling.