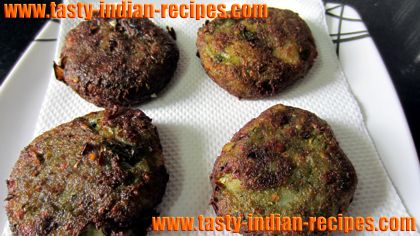 Aloo Methi Tikki is extremely delicious combination of potatoes and fenugreek leaves (methi). These tikkis or cutlets are really a quick and tasty snack dish, here you can do the best use of leftover potatoes and methi leaves for making delicious evening snack dish.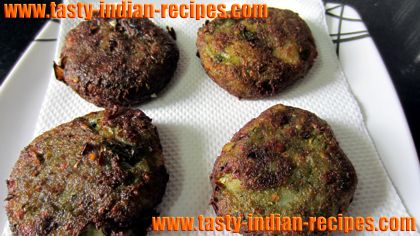 Preparation Time: 10 minutes
Cooking Time: 15-20 minutes
Servings: 6
Ingredients:
4 potatoes (boiled and peeled)
1 bunch methi (fenugreek leaves) chopped
1 small onion thinly chopped
6-7 cloves garlic chopped
1 inch ginger minced
4 green chillies chopped
1/2 tsp red chilli powder
1/2 tsp cumin seeds powder
1/2 tsp turmeric powder
1-1/2 tsp coriander powder
1 tsp garam masala
1/2 tsp chaat masala
2 tbsp bread crumbs
Vegetable oil
Salt to taste
How to make Aloo Methi Tikki:
Wash the chopped methi 4-5 times in normal running water, squeeze and keep aside.
Heat 1 tsp oil in a pan, add onion.
Fry until onion translucent.
Now add ginger, garlic and green chillies.
Saute for few seconds with the onion.
Mash the boiled potatoes and add in the pan.
Mix well and add chopped methi, saute on low flame.
Add salt and all the remaining spices.
Mix well and cook for 4-5 minutes on low flame.
Remove the mixture from the flame and allow to cool completely.
Now heat sufficient oil in a pan.
Mix the bread crumbs in the mixture very well.
Divide the mixture into equal portions and give a round shape to each portion with the help of oil.
Flatten the tikki and coat with the bread crumbs.
Deep fry 2-3 tikki's at a time in hot oil, until they turn into nice golden brown in color from both the sides.
Drain on oil absorbent paper and serve hot with coriander or mint chutney.
Chef Tips:
Wash the methi leaves very well and squeeze to take out the sourness.
Taste the methi leaves before adding in the mixture, if they are very soar then boil the methi for few minutes and then add in the mixture.
You can add amchur powder instead of chaat masala.
Boiled potatoes should be soft and mashed very well to make the delicious and well shaped tikkis.
For making easy bread crumbs, you just need to grind or blend the whole breads and make a smooth crumbs.