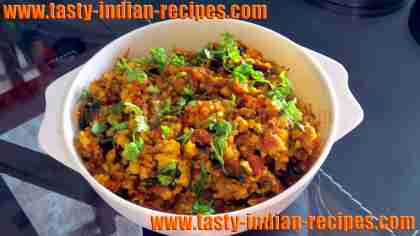 Bread Bhurji is simply a blend of white bread slices, cooked in onion paste and tossed with the spices. A tasty breakfast dish can be served at any time in just few minutes.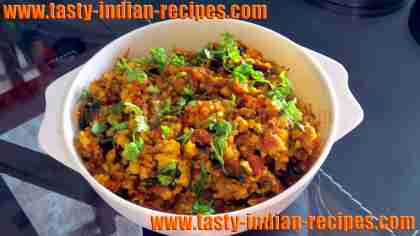 Preparation Time: 2-3 minutes
Cooking Time : 8-10 minutes
Servings: 6
Ingredients:
1 whole packet of white bread slices
2 tbsp low fat curd
2 green chillies sliced
1 inch ginger chopped
2-3 cloves garlic minced
Few curry leaves
1/2 tbsp mustard seeds
1 onion thinly chopped
1/2 tsp red chilli powder
1/2 tsp turmeric powder
1/2 tsp cumin powder
1/4 tsp chaat masala powder
2 tsp butter
Fresh coriander leaves chopped
Salt to taste
How to make Bread Bhurji:
Place the bread slices on the chopping board, slightly trim the edges and cut them into medium size cubes.
Melt the butter in a non-stick pan and add mustard seeds and curry leaves.
Allow the seeds to splutter and then add ginger, garlic and green chillies.
Saute for few seconds. Add thinly chopped onion and the cubes of bread.
Stir with the curd and add 1/2 cup of water.
Add salt and spices and saute over medium high heat for 3-4 minutes.
When the bhurji seems light brown in color then garnish with coriander leaves.
Stir on low heat only for few more seconds and serve hot.
Chef Tips:
Oil can be used instead of butter.
Make sure bread must be very fresh to make this recipe.