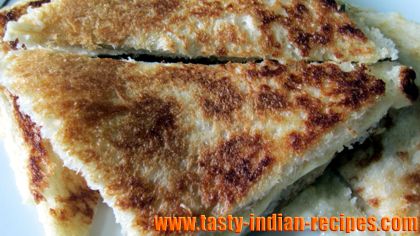 Garlic Toast is the crispy toast recipe, made with lots of minced garlic, margarine, cheese and spices. This is the yummy breakfast or snack dish which is everyone's favorite garlic recipe. This particular toast consists the sour and cheesy flavor of garlic and cheese. Learn to make home made easy garlic toast recipe in just few minutes.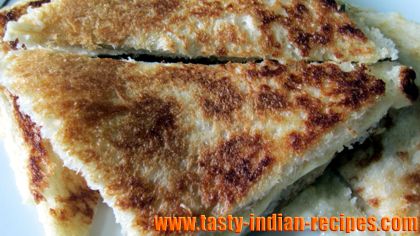 Preparation time: 4 minutes
Cooking time: 6 minutes
Servings: 4
Ingredients:
8 bread slices (white or brown)
15-20 garlic minced
1 tbsp mixed herbs
1 green chilli finely chopped
2 tbsp margarine
2 tbsp parmesan cheese
1/4 tsp black pepper powder
Salt to taste
How to make Garlic Toast:
Melt the margarine in non-stick pan until soften.
Place all the bread slices on flat chopping board.
Slightly cut the brown edges of the bread.
Apply little bit of margarine on all the bread slices.
Mix the minced garlic, green chilli, salt, cheese and pepper powder in a bowl.
Mix evenly and spread this mixture on 4 bread slices.
Sprinkle the mixed herbs in equal proportion.
Cover with remaining 4 buttery bread slices.
Preheat the oven to 400F degrees on baking mode.
Place the prepared breads on the baking tray, apply little bit of oil on baking tray if it is necessary.
Bake for 5-6 minutes until lightly brown.
Cut into desired shapes and serve immediately.
Chef Tips:
You can use butter instead of margarine.
I have used white bread, otherwise brown or white both breads are fine for making this toast.
Mixed herbs are ready made bought and they are available easily in every retail store.
If you want, you can make these garlic toasts on tawa or pan also.
Serve them hot with tomato sauce or ketchup.